Having to deal with graffiti can be a infuriating. Kwik-Klean, Inc. can quickly remove graffiti from your property. Our goal is to keep your home and/or business looking beautiful.
Our process is to use a specially formulated graffiti remover to the vandalized area. After letting the remover dwell for 15 minutes or so, we pressure wash with hot water. This process will return the vandalized area back to its original state.
Call our trained professionals for KWIK pressure washing graffiti removal service at 248-852-7141 or complete the on-line request for a free estimate.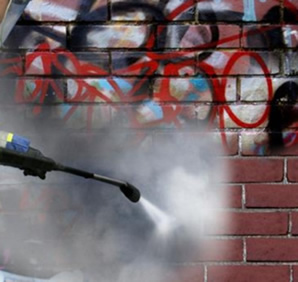 "I contacted Kwik-Klean in the spring of 2006 to have my brick patio cleaned and sealed. The job was done in a timely manner and the price was very comparable to the other quotes I received. Marc was a delight to work with and I will recommend your services to all my friends and family."