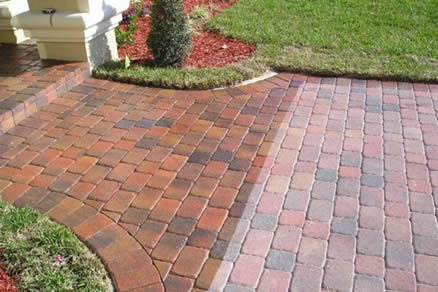 Keeping up the appearances of your Michigan home is a lot of work. Decks and patios can take on damage. Walkways through your yard can hold onto dirt and grime. And cement driveways can hold onto stains that are tough to remove. When you look into contacting a professional pressure washing company in Michigan, you'll learn that the work that comes with making sure the outdoor appearance of your house doesn't require as much effort as you expected.
Here are three ways a Michigan pressure washing company can improve the look of your outdoor spaces:
1. A Pressure Washing Company Can Clean and Clear Your Driveway and Walkways
No matter the size of your driveway, whether it is made of brick or cement, a variety of filth can collect between the cracks and pores. Brick and cement particularly hold to mildew, moss, weeds, and algae. It isn't easy removing that sort of grime through regular cleaning which is why contacting a pressure washing company is very important. After your hardscaping features have been professionally pressure washed, you'll notice how much brighter and appealing your home's entrance once was. Remember, the driveway is usually the first thing your visitors notice when they come over, so for the sake of making a good impression and making your home more eco-friendly, consider the benefits that come with pressure washing.
2. Pressure Washing Increases the Endurance of Your Decks and Patios
If your family and friends spend a lot of time outside during Michgian's warmer seasons, you'll notice some wear and tear on your deck or patio. The coarseness of gravel, dirt, and other rocky substances can scratch the wood and allow dirt to get trapped in the cracks. If those cracks and tears are left uncared for, they'll become a home for mold and fungi. This will attract unwanted bugs and critters around or even inside your home. If you don't want a spider's nest enjoying your outdoor living area, pressure washing can take care of that. Professional pressure washers know how to use the right solutions to protect your wooden patio and deck. Pressure washing cleans deeply, so any stains created from well-embedded dirt or rock will be removed. If you want a wonderful wood restoration and increased safety for your deck or patio, pressure washing is the best method.
3. Pressure Washing Takes Care of Areas You Don't Expect
Driveways, walkways, decks, and patios are commonly thought of when pressure washing is involved, but professional pressure washers can take care of other areas of your home too. If you have a stone or wooden fence that is beginning to look lackluster and weak, pressure washing can help rebuild its strength and exterior. Do you have a metal or stone fireplace? Pressure washing chimneys can get rid of any fungi or mold growing in the cracks. What about your garage? If you have a car that leaks oil and stains the cement, pressure washing will take care of that too.
Contact a Michigan Pressure Washing Company
Pressure washing is a valuable service that can clean your outdoor living areas quickly and efficiently. If you're in Macomb County and the surrounding areas and need a Michigan pressure washing service, contact Kwik-Klean, Inc. to see what we can do for you.
Call: (248) 852-7141