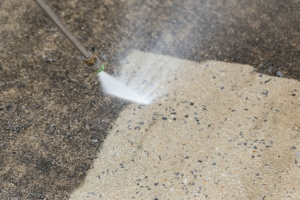 As time goes on, you're going to notice some wear and tear on your house. This is natural. Over time, houses have to endure the presence of dirt, grime, mold, and more. Homeowners rack their brains trying to figure out what would be the fastest way to clean up the exterior of their home. The best answer for that problem is pressure washing. It's a fast and efficient way to clear any unwanted dirt off of your house and outdoor living areas. It'll make short work of cleaning every nook and cranny. You might be afraid that pressure washing may damage your property. Don't worry. That will never happen if it's done by our Clawson pressure washers.
Pressure Washing Can Clean the Exterior of Your Michigan Home
Michigan homes can be made of a variety of materials: brick, wood, siding, and more. All types of materials can handle pressure washing. In fact, they can even be restored so well that your house looks like new.
Having the outside of your home pressure washed will allow all that is seen and unseen to be cleaned efficiently. Since pressure washing can clean those tight spots, it will help prevent mold and mildew from sticking around your home.  If left alone, they can weaken the structure of your home or slip inside the house to spread its infestation even more.
If you're worried about any damage being done to the material of your home, like a painted wooden surface, don't fret.  Our Clawson pressure washers know how to regulate the amount of pressure used to clean off your property.
Pressure Washing Can Restore Decks, Patios, and Fences
Whether your deck, patio, or fence is made of wood or composite, pressure washing can clean and restore its presence. Hiring our Clawson pressure washing team to take care of these surfaces will show tremendous endurance for each one of them. Water stains, the presence of mold, or collection of dirt or debris hiding in the corners will be no problem.
Once the work is finished, your home will look better and you will also save money on any future repairs. Pressure washing is a must for these structures.
Pressure Washing Can Clear Walkways and Driveways
Pulling into your driveway after a long day's work, only to be greeted by stained concrete doesn't leave a good feeling. If you spot greasy stains on concrete or the moss on a brick-paved walkway, it probably bothers you to see it on a daily basis. That grime can be a health hazard too, as it's quite slippery.
That's where Warren pressure cleaners can help you out. They have the tools and experience to remove all those nasty stains. Your driveway and walkway will look good as new and be safer as well. For a better look and a safer environment, pressure washing is the first step towards achieving those goals.
To work with Clawson pressure washers that specialize in concrete cleaning, brick paver restoration, and wood restoration, contact Kwik-Klean today.
We offer our pressure washing services throughout Macomb and Oakland County.