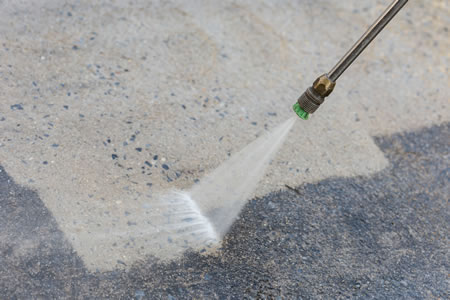 Whether they're residential or commercial, concrete driveways and walks get dirty, stained, and overgrown with algae and other types of vegetation and bacteria. They look wonderful when they're first poured. And they stay great looking for quite a while.
But, like any exterior aspect of a home or a building, they take hits – from the environment, the climate, all sorts of vehicle and foot traffic and general wear and tear over time from – let's face it – being used.
If you're like most people, you're under the impression that concrete only needs to be pressure washed. And while that's true, there' little more to it. Concrete is extremely porous. This means it's very challenging to clean properly and thoroughly. So, if you're thinking that you can pressure wash it yourself with some rented equipment, you're encouraged to think again.
You won't have to think too much more after you learn the 3 primary reasons you should hire a professional pressure washing company to clean your concrete walks and driveways.
Prevent further damage
A pressure washer is a serious piece of equipment. It must be operated and handled properly – usually the way only a trained, educated professional knows how to do. DIYers who try to pressure wash their concrete structure themselves typically discover – too late – that the following "mistakes" are easy to make and expensive to correct:
Using too much water
Not applying the correct amount of pressure to a particular area
Not knowing the proper angle for spraying
Using the wrong chemical and tools
Save water, time, money and aggravation
Pressure washers use a lot of water. But, when they're used improperly, they use (i.e. waste) even more water. And this excessive water is not only costly, but it can also damage your concrete.
As suggested above, DIYers believe that if they own the equipment necessary in order to do maintenance and repairs to their property, they'll save money. However, owning the equipment is not the same as being properly trained in how to use it, store it, and maintain it.
But the equipment breaks down. And, only a professional truly knows how to diagnose the problem, repair it, and which parts that need replacing. If you're not familiar with the equipment to this extent, you will lose much more money than you thought you'd save by having your own pressure washer and doing your own pressure washing.
Furthermore, pressure washing is a physically demanding professional trade and skill. If you're pressure washing your driveway and you've been at it for quite a well, yet still not seeing the results you're seeking, you will be frustrated, and eventually, exhausted.
Increase your property's value and curb appeal
Professional pressure washing your concrete areas – your walkways, driveways, patios, parking lots, etc. – will keep them spotless and very attractive. Clean, flawless concrete spotlights your entire property. But in addition to the visual appeal, pristine concrete also increases the property's value.
For More Information About Pressure Washing Concrete Driveways and Walks
Kwik-Klean is the expert in pressure washing concrete driveways and walks. We provide professional pressure washing services in Metro Detroit to include Rochester Hills, Troy, Sterling Heights, Warren, and the surrounding areas. Our experienced and knowledgeable staff are trained to know just how to clean concrete for your home or business with quality pressure washing services. For more information on our pressure washing services or to schedule an onsite free estimate, please call us today at (248) 852-7141.