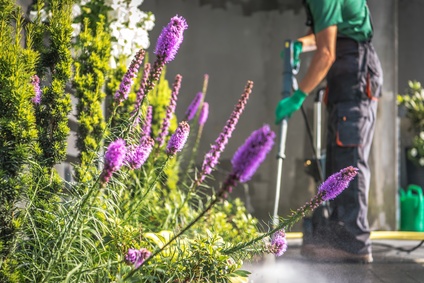 Pressure washing is one of the most effective ways to clean your driveway, walkway, patio, deck, and siding. Perhaps the most appealing aspect of it all is that you can rent a pressure washer and clean your home without involving any professional cleaner.
While the idea to save money is quite enticing, pressure washing risks damaging your surfaces if the safety precautions are ignored. Each type of surface, for example, has different cleaning requirements.
Without proper training and experience on how to use the power washers on each surface, damages are likely to occur. It is important to take time to train yourself and know the potential hazards, which might ruin that striking appeal of your surfaces.
In this post, we share some of the dangerous mistakes to avoid when you opt for the DIY pressure washing approach.
Using too much pressure
Did you know a pressure washer is almost 50 times powerful than your garden hose? If you underestimate the power of water from the jet, it is easy to blast the paint off your siding, break seals, etch concrete, or even break windows. The spray can also get behind the siding and lead to moisture issues.
Pressure washing with only water
Power-washing machines typically require using some type of detergent or chemical cleanser. If you decide to pressure wash with just water, chances are you will end up applying too much pressure on the surfaces to achieve the desired results.
Some homeowners use detergents, but they usually load the power washers with improper ratios of cleaning solutions. Getting it wrong with your cleaning solution also subjects the surfaces to excess pressure.
Applying wrong methods and techniques
There are different types of pressure washers, and they require varying operating techniques. You have to know your machine. We recommend that you refer to the user's manual for guidance.
Generally, though, here are a few tips for a trouble-free pressure washing experience.
Clean surfaces in proper order: If you're planning to clean your home thoroughly, start with deck, walkways, driveways, etc. Avoid cleaning windows first, as they will get dirty when you shift focus to the other parts of your home.
Keep the right distance: Check this in the user manual. Ideally, begin blasting with a wide fan-pattern and not directly into surfaces.
safe from electrical dangers: Water and electricity don't mix well. It is best to wear rubber shoes because you will be standing on a wet surface. Also, ensure the machine is connected and grounded safely.
If you don't want to take any risks, the smart option is to hire a professional pressure washing service. The cost of restoring the original appeal of your surface after damage would be several times what you pay for professional cleaning.
Do you want a pressure washing company in Warren, MI?
We are a reputable pressure washing company that specializes in cleaning different parts of properties, including paver driveways, walks, and other hardscape areas. Our highly experienced and knowledgeable crew is always ready to serve you in Warren and the surrounding areas. Contact us today to schedule a free onsite estimate.
For More Information About Our Professional Pressure Washing Services
Kwik-Klean is the expert in pressure washing concrete homes, driveways, walkways, fences, and decks. We provide professional pressure washing services in Metro Detroit to include Rochester Hills, Troy, Sterling Heights, Warren, and the surrounding areas. Our experienced and knowledgeable staff are trained to know just how to clean concrete for your home or business with quality pressure washing services. We are proud to say, that we have been providing our pressure washing services for 30 years! For more information on our pressure washing services or to schedule an onsite free estimate, please call us today at (248) 852-7141.