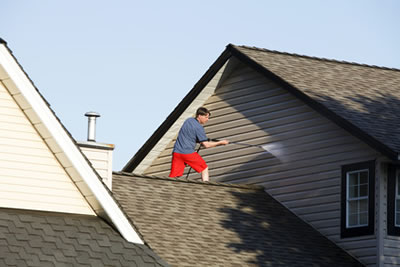 Oh, YouTube. We love YouTube for funny cat videos and endless reruns of bad 1980s music videos. But we don't love YouTube for the expanse of DIY videos. These videos make every homeowner think that they can clean, repair, build and replace anything in their home, if they just spend some cash at the local home improvement store. The problem with this theory is, that most homeowners end up doing more harm than good, and they call professionals like those of us at Kwik-Klean, to fix the problems. Power washing your home is a great way to keep it looking great, without a lot of effort, but trying to DIY the work can damage siding, wood patios and paver surfaces. If you are thinking about doing some DIY power washing around your home, here's a few reasons we think you should reconsider.
Goodbye Paint
Pressure washing your home's siding is a great way to get rid of dirt, grime and mildew that can build up over time. As a matter of fact, a good power washing can restore your home's paint to look nearly new. On the other hand, if you do the job the wrong way, with the wrong equipment, you can strip the paint from your siding. Now, power washing is a good idea before you paint your home, but if your goal is only to get your home looking clean and fresh, let the professionals handle that. Pressure washing professionals know just how to clean your home's siding, so that it looks great, without the risk of stripping the paint or causing damage.
Paver Destruction
Power washing is an important step in maintaining your brick or stone paver patios, driveways and walkways. But if you don't know what you are doing, you risk washing out the sand that fills the gaps, damaging the stone pavers, and shifting the pavers. Years of practice and training gives professional power washing companies the confidence that we won't damage your pavers when we are restoring your paver surfaces, and that you won't have to worry about bringing in a paver company to reset and replace pavers.
Groovy Wood
Just like your home's siding, your exterior wood surfaces like steps and decks can benefit from a good cleaning from time to time. It's important that this is done with the right washing nozzle and pressure, otherwise, you can strip away stain and leave grooves from the high pressure water in the wood of your deck and stairs. Professional pressure washers can clean your deck and other exterior wood surfaces, without concern that your deck will end up with unwanted grooves.
Power washing is a great way to extend the life of your home's features, without having to spend tons of cash on repainting, replacing and refinishing exterior features. Sure, YouTube can help you understand the process, but if you are looking to deep clean your home's exterior, skip the DIY and hire a professional pressure washing company near you. You will be happy you did.
Searching for the Best Pressure Washing Company Near You?
Kwik-Klean is southeast Michigan's pressure washing expert. We have years of experience helping home and business owners make their properties look great and last longer. If you need the help of professional pressure washing company near you, call us today at (248) 852-7141.