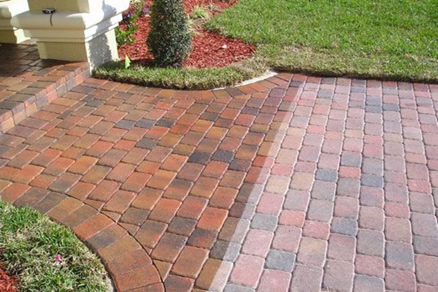 Installing brick pavers at your home in Oakland Township, MI is a big investment. They give your home a unique and beautiful look that can make your home stand out from your neighbors. They can also look really bad if not well maintained. When brick pavers start to look old and dingy, many homeowners in Oakland Twp. decide that it's time to have them replaced. However, with proper paver restoration, a dirty dull paver surface can look beautiful and new, at only a portion of the cost to replace. Here is how we make your pavers look great again, with paver restoration.
A Good Cleaning
The first step in restoring your brick pavers is to give them a good cleaning. You may have been washing your pavers for years, but sometimes water just isn't enough. Over time, brick pavers will start to leach salts from the material they are made from and start to build up a white film on the surface. Stains such as food, grease and automotive fluids are also difficult to remove and can make your pavers look less than amazing. To get your pavers looking new, we use a bio-degradable brick cleaning solution that will break down the film and stains, and then a power washer to clean away the dirt, moss, weeds, and grime that have built up over time.
Re-sanding
Once your pavers are clean and dry, we follow up a good cleaning by re-sanding the joints of the paver surface. We use a polymeric sand that comes in a variety of colors so that it matches your pavers. Regular wear and tear, and the process of washing your pavers, will cause some of the sand in the joints to come out. Missing sand will cause your bricks to shift and for water and plants to get between the pavers. Eventually, this will cause your paver surface to become uneven. Re-sanding your bricks will ensure that they stay where they are supposed to be.
Seal it Up
The final part of the paver restoration process is to seal your pavers. This step is not necessary but it does keep your bricks looking nicer, longer, and it helps to hold the sand around your bricks in place. You have two options for sealants; an acrylic sealant or a penetrating sealant. Both are effective at protecting your pavers, but the one you chose depends on the look that you want for your pavers. The acrylic sealant coats your brick pavers with a shiny, water resistant surface. Acrylic sealants also make the colors in your pavers appear more vibrant. The penetrating sealant is perfect if you want your pavers to maintain a natural look. The penetrating sealant is breathable and wicks moisture while at the same time keeping a matte finish for your brick pavers.
Don't DIY
Restoring brick pavers is a process that many homeowners in Oakland Township try to do themselves. Remember, if you aren't practiced in this process, you can cause more damage to your paver surface by using the wrong materials and equipment.
For More Information on Brick Paver Restoration and Pressure Washing Services in Oakland Township, Michigan
Restoring brick pavers will make your Oakland Twp. home's exterior stand out from your neighbors, for a lot less than the cost of replacing these materials. If your brick paver surface is looking a little dirty and dingy, it's time to bring in an expert to make them look like new again. Kwik-Klean is Oakland Township's expert in power washing services. If you need clean brick pavers or any other part of your home's exterior, let us help.
For more information on our pressure washing and brick paver restoration services in the Oakland Township area, please call us today at (248) 852-7141. Fill out our online form to request a free quote on brick paver restoration and pressure washing services in Oakland and Macomb Counties.