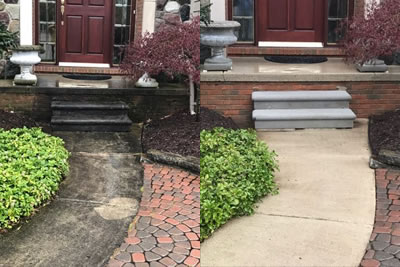 Not a single home or business owner that we know in Lake Orion wants to look at ugly hard water stains on their concrete, brick or stone pavers. Not only are hard water stains ugly, but they can cause serious problems for your property, whether it be your home or your business. With the popularity of social media outlets like YouTube giving advise on how to do just about anything, we often encounter clients that have tried to clean the hard water stains, only to discover that it isn't as easy as it looks, and if you don't know what you're doing, you can do more damage to your property than good. If your Lake Orion home or business needs hard water stain removal, here's what you need to know.
What Causes Hard Water Stains?
Hard water stains are caused by the minerals that are present in our water. All water that is delivered to your home or business will have some minerals such as calcium, sodium, magnesium, and iron. These minerals are found naturally in the soils and are easily dissolved into water. The problem is that when these minerals come out of your water, they form deposits on sidewalks, the side of your home or building, and on windows. Direct contact with these minerals won't hurt you, but they can sure look awful when they buildup where you don't want them.
More than Just Ugly
Most of our clients in Lake Orion are strictly concerned with the cosmetic and aesthetic "issues" that hard water stains cause. Yes, they're ugly, but extensive hard water stains that are not managed in a timely manner can cause serious problems. Some of the more serious problems that hard water stains can cause over time are deterioration of concrete, brick and stone, which can cause sidewalks and walkways to become pitted, fall apart, and create trip and slip hazards. For walls made of brick or stone, the minerals in hard water stains can dissolve the mortar in between bricks or stone, causing them to fall out or become weak. To avoid damages to your Lake Orion property from hard water stains, it's a good idea to have them professional removed with on a regular basis.
Why You Shouldn't DIY Hard Water Stain Cleaning
Just like with any other DIY project, if you don't know what you are doing when you are trying to clean hard water stains, you can do more harm than good. Whether you end up dislodging pavers, breaking grout or mortar, or unintentionally stripping paint or stain from other surfaces, the last thing you need is another repair project. Not to mention, without the right equipment and cleaning chemicals, you may spend hours on cleaning, and see very minimal results.
Why Need to Hire An Experience Pressure Washing Company
Professionals, like the experts at Kwik-Klean, are trained in how to use the right equipment for the specific task of removing hard water stains from a variety of surfaces. A professional power washing company also has a variety of environmentally friendly, but seriously effective cleaning chemicals that double the power of the equipment without causing damage to your surfaces or the environment. And, for you the home or business owner in Lake Orion hiring a professional pressure washing company to remove hard water stains on your concrete, brick or stone surfaces, means that you don't have to spend your precious time doing the work. An experienced pressure washing company gets the job done quickly, the right way, with no damages to your property, and you can spend your time doing other more important tasks.
For More Information on Pressure Washing Services in Lake Orion, Michigan
At Kwik-Klean, we know how important it is for your home or business in Lake Orion to look great. That's why our employees are trained in how to clean all sorts of surfaces around your home or business in Lake Orion, using the best pressure washing equipment and the most environmentally safe cleaning products. If you need ugly hard water stains removed from your home or commercial property in Lake Orion or the surrounding area, call us today for an estimate on pressure washing services.