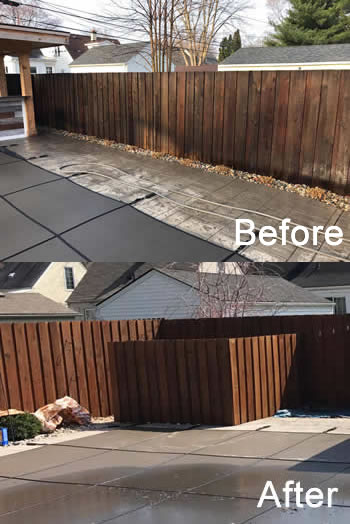 A beautiful wood fence is a great addition to your Macomb Township home. Not only do they provide great privacy, but they can increase the value of your home and provide a beautiful backdrop for your outdoor living space. Until… they become weathered and dingy. We've all seen them, and maybe you have one at your home. A fence that was once beautiful but is now a feature you wish would just disappear. Many homeowners in Macomb Township think that when their fence gets to this point, their only option is to spend thousands of dollars to replace it. We have a better solution for your Macomb Twp. home. Before you throw in the towel and replace your wood fence, have it professionally pressured washed.
Why Your Wood Fence Looks Bad
Over time, wood ages just like any other natural material. Fencing isn't usually treated with a stain or sealant but rather a light protective coating, so it is more susceptible to weather, dirt and mold or mildew. These factors, over time, will begin to make your wooden fence look grey and dull, instead of having that fresh natural wood look. Underneath all of that grime and age, the wood of your fence is still there and can still look great if you give it a good cleaning. Wood fences aren't the only type of fences that are susceptible to looking poor over time. Vinyl fencing can also start to collect dirt over time, making it look old and worn.
Why You Don't Want to DIY
HGTV and DIY Television have made homeowners think that they can take on any home repair project. Unfortunately, we've seen the results of many ambitious DIY attempts and they are never good. Pressure washing wood when you don't know what you are doing can cause a lot of unwanted damage. Using the wrong equipment can go beyond stripping the dirt and mold and actually cause indents and damage to the wood surface. Damage to the wood fibers will age the wood faster and result in replacement, much sooner than you had anticipated. Your fence isn't the only feature in your yard that can be damaged by a DYI pressure washing adventure. You can damage plants and your lawn with the high pressure water and cleaning chemicals if you aren't handling equipment or cleaning supplies correctly. This can lead to even more expense to replace landscaping materials.
Hire a Professional Pressure Washing Company
If you start thinking you can DIY your fence cleaning project, stop, and call a professional pressure washing company like Kwik-Klean. Professional pressure washing companies have a variety of equipment and cleaning supplies for all types of jobs. Not only do the experts have the right tools for the job, but they also use cleaning chemicals that are safe for your landscape, your kids, pets, and the environment. Experts at pressure washing can get your fence cleaned and treated in a fraction of the time that you can do the work on your own.
For More Information on Pressure Washing Services in the Macomb Township Area
Pressure washing your Macomb Township home's wood features is a perfect task to leave to the professionals. The experts at Kwik-Klean know just what it takes to get all of your home's hard surfaces clean and looking great. If your fence, deck or wood steps need to look great without replacement, give us a call today at (248) 852-7141 for a free quote on pressure washing services in the Macomb Twp. area and learn more about how we can make your old wood features look like new.