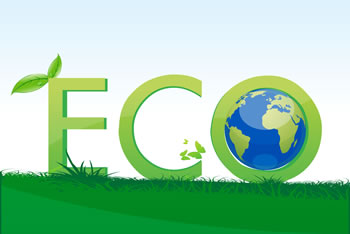 Pressure washing is a no-brainer task, right? Anyone can power wash their business or home, right? While the thought of pressure washing is easy, and if your job is small, you may be able to handle it just fine. However, big pressure washing jobs, like cleaning your deck, require a lot of special considerations to be done correctly and safely. One of the things that our Metro Detroit customers don't often think about is the impact that pressure washing can have on our environment if done incorrectly. A professional pressure washing company does everything it can to protect the delicate Michigan environment.
Why Do We Care?
Here's the thing, we only have one earth, and we are all responsible for taking care of it. Every year, millions of gallons of water from people washing their sidewalks, houses and businesses runs down the street and into the lakes and streams of southeast Michigan. All of that dirt and grime impacts the water we drink and the beautiful animals that call our lakes and streams home. When inexperienced individuals take on pressure washing, they can create a lot of pollution for our southeast Michigan environment. Because we call this place home, we know just how important it is to do your pressure washing job the right way to protect the environment.
The Right Equipment
Today's pressure washing equipment has the capability to clean your sidewalks, decks exterior siding and commercial windows just as effectively with less water. When our equipment uses less water that means less of the pollutants from your hard surfaces ends up in our waterways. When pollutants don't make it into our streams and lakes, that means our beautiful Michigan environment is protected. If you rent pressure washing equipment and try to do the job yourself, you cannot guarantee that you will get the best, most water efficient equipment. When you hire a professional to do the work, you know that you are getting high quality equipment that will protect the environment and your pocket book.
The Right Chemicals
The reality of pressure washing is that for it to work right, you have to use soaps or other chemicals to get set-in dirt and grime out. Not all soaps and cleaning chemicals are environmentally safe. As a matter of fact, if you are trying to do the job yourself, there is little assurance that you are getting an environmentally safe cleaning product from your local home improvement store. This means that not only are you going to use a lot of water, but what you send down the gutter is going to be filled with soaps and chemicals that aren't going to be good for our lakes, streams and wildlife. When you hire a professional pressure washing company, you can find companies like Kwik-Klean that use environmentally-friendly cleaners and soaps. As a matter of fact, many customers select Kwik-Klean for their pressure washing tasks, just because we use environmentally safe cleaning products.
For More Information on Pressure Washing Services Throughout Metro Detroit
Metro Detroit is a beautiful place to live, and our natural spaces are one of the best parts of living here. If you are looking for a pressure washing contractor to help you with residential or commercial pressure washing jobs, and want a business that is environmentally aware, Kwik-Klean is your answer for pressure washing in Metro Detroit. For more information on our professional pressure washing services or to schedule an estimate call us at (248) 852-7141.