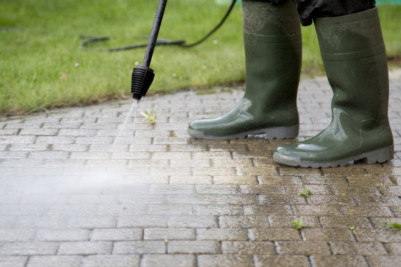 Pavers are wonderful enhancements to your home. They bring great pleasure, appeal, value and functionality to your home's exterior, property, and outdoor living space. In fact, it's the rare homeowner indeed who isn't completely happy with this upgrade.
But, in order to sustain the gratification homeowners get from their pavers, they have to invest a bit of time and attention on maintaining them. The integrity and beauty of pavers can last many, many years if they are well maintained routinely and properly. Fortunately, there are simple, easy to follow guidelines for making sure you maintain and preserve your pavers.
If that your objective is to make sure your pavers last and shine for many, many years, then keep in mind that – like all flooring materials – pavers are susceptible to degradation over time. If you don't stay on top of all the wear and tear and traffic they will endure, they will lose their luster. But the good news there are things you can do to prevent that from happening.
Here are the steps to take to keep your pavers looking beautiful!
Remove weeds. As you may know, weeds can grow in patio pavers. If there is one thing that will diminish your pavers' elegance, it is weeds growing in between them. This will make seem aged, even if they are clean and shiny. Pull the weeds out of paver joints as they first appear. Don't put this off too long.
However, you must remember that care should be taken when you are pulling out weeds. If you do it correctly you could damage your pavers. To prevent further weed growth in your pavers, use paver sand to fill in the joint gaps. This will preempt silting which is responsible for permitting weeds to grow.
Rinse and clean them routinely. Remember, the goal is to keep your pavers looking just like they did the day they were installed So, you must make efforts – regularly to keep them clean. Sweep them and remove all loose dirt and debris that will naturally occur.
And, rinse and clean them in the same fashion as you sweep them. While you can catch some debris and dirt by sweeping, water will make sure you get it all. And, as you are rinsing with water, remember to get in the joints. Your pavers' surface may look fine but if you overlook the joints the overall appearance of your pavers will be compromised.
One thing to make sure you do is to wipe up spills immediately as they happen. This is how you will help prevent stains. Your pavers will quickly lose their glow if you don't clean and rinse them regularly, but this will happen even quicker if you let a damp stain rest on your paver for a long time. A neglected stain can cause your paver to become discolored. So, once again, wipe up a spill or stain instantly.
If you encounter particularly nasty stains, you will want to use pressure washing to remove it. If fact, a good pressure washing is recommended periodically. Even though you may be fully dedicated to preserving your pavers yourself, every so often you will want a professional pressure washer company to thoroughly clean and preserve your pavers.
For More Information About Pressure Washing Brick Pavers
Kwik-Klean is the expert in pressure washing concrete driveways and walks. We provide professional pressure washing services in Metro Detroit to include Rochester Hills, Troy, Sterling Heights, Warren, and the surrounding areas. Our experienced and knowledgeable staff are trained to know just how to clean concrete for your home or business with quality pressure washing services. For more information on our pressure washing services or to schedule an onsite free estimate, please call us today at (248) 852-7141.