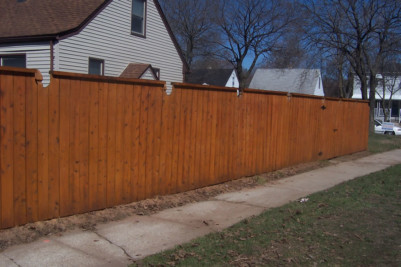 Privacy fences are wonderful aspects of a home. They frame your yard and entire outdoor living space while providing what their name suggests – privacy. But if they are neglected and run down, they start to diminish the look and image of the entire home and property.
For that reason, Oakland County homeowners realize that periodically they need to give their privacy fences some attention. A privacy fence is constantly bombarded with all the wrath nature has to throw at them. And in Oakland County Michigan, this ranges from snow and sleet to rain and wind and glaring relentless sunshine.
But a privacy fence is an asset and it is worth preserving. And, the best way to do that is by pressure washing and staining it. This is what is meant by preserving and protecting it – in addition to beautifying it. Privacy fences need to be pressure washed and stained so they won't buckle or bow. They are prone to shrinkage making them less private and far less attractive. Instead of enhancing your home, a run-down privacy fence diminishes its perceived quality.
Here are the steps involved in preserving, protecting, and beautifying your Oakland County, Michigan privacy fence.
Pressure washing. Let's get into more detail on this vital step. Before you stain your privacy fence you must pressure wash it. First of all, pressure washing makes it look like it did when you first had it built.
The wood will start revealing its original, natural beauty once the bird excrement, mold, grease, grass, and dirt is washed away. If you attempt to stain your privacy fence before getting rid of all of those things, you will damage the structure of your fence and guarantee that the dirt and grease and other stuff that's on it will always be on it. In short, you'll never get it off.
In addition, after a proper pressure washing, your privacy fence is set up to absorb and retain the new stain you apply so it is more adherent and lasts longer.
Pressure washing isn't hard if you have one of your own. With a low setting, you can get rid of the dirt, most stains, and paint. If you don't own a pressure washer, you can contact a professional Oakland County pressure washing service and they will ensure your privacy fence is properly, thoroughly washed and ready for its new stain.
Making repairs. If you neglect your privacy fence for a long time and let a lot of grease, dirt, or mold accumulate, your fence might be damaged in certain areas. And, depending on its your fence could have deep damage caused by all sorts of things – termites, rodents and other animals chewing on it or digging at it, or woodpeckers. These irritations can break or hollow parts of the fence. So, take inventory of the damages to your fence and get ready to make repairs.
It should only take a bit of time and effort but doing this breathes new life and durability into your privacy fence.
Stain properly. The stain you apply is the element that protects your fence so apply it thoroughly and correctly after your privacy fence has been well cleaned and repaired.
For More Information About Pressure Washing Your Privacy Fence
Kwik-Klean is the expert in pressure washing concrete driveways, walkways, fences, and decks. We provide professional pressure washing services in Metro Detroit to include Rochester Hills, Troy, Sterling Heights, Warren, and the surrounding areas. Our experienced and knowledgeable staff are trained to know just how to clean concrete for your home or business with quality pressure washing services. For more information on our pressure washing services or to schedule an onsite free estimate, please call us today at (248) 852-7141.