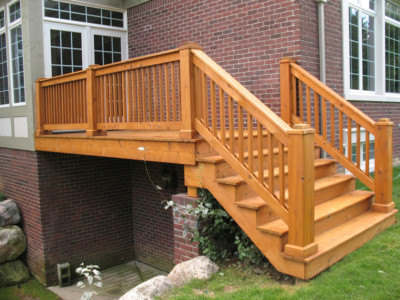 Spring has officially begun. And, while it has been more reminiscent of winter initially, every so often homeowners are greeted by a beautiful day and they want to do every spring activity they can while the sun is shining, and the air is fresh and warm. However, in addition to being inspired to all the fun things that can be done on a nice spring day, homeowners are also reminded of what they need to do.
The first tasks that usually come to mind are the pleasant ones – landscaping and gardening. In fact, these activities don't even seem like tasks after being shut-in for months. But then, thoughts drift to the most essential chores that have to be accomplished.
And, of course, the chore that is most necessary during early spring is cleaning – indoors and out. Once spring takes root – literally and figuratively – spring cleaning rises to the top of the to-do list. And while indoor spring cleaning is another topic for another time, outdoor spring cleaning is the focus of this discussion.
What does outdoor spring cleaning include?
When we talk about outdoor spring cleaning in general, we're referring to your house, your windows, and your concrete hardscapes. These are the elements that really took a beating during the harsh winter month and they need some sprucing up. Just one walk around your property and outdoor living space in early to mid-April will make it very clear that this is undeniable.
What is the best method for spring cleaning hardscapes?
The easiest way to brighten up and restore your pathways, patios, pool deck and concrete patio is by pressure washing them. Winter grime, mildew, moss, stains, and general dirt is easy to wash away with pressure washing.
What is involved in spring pressure washing my outdoor living space areas?
When you hire a professional pressure cleaning service, you will gain the most value from their professional pressure washing if you first make sure all areas that are to be cleaned are clear of all loose obstacles and debris like dirt and dust.
Sweep the areas, use a leaf blower to get rid of all loose particles before the area is pressure washed. Dampen – just slightly – landscaping, planter boxes or flower beds that are near the concrete surfaces that are about to be pressure washed. These things could get damaged by the pressure washer's spray. After you slightly dampen them use some kind of sheet or plastic to cover them. Also, move or cover – very securely – all electrical outlets and cords that are nearby.
Pressure washing requires time. In order to thoroughly, properly cover the whole surface it will take time to pressure wash the hardscape or structure. Section off large areas so you dot' wah one apt twice and neglect another part entirely. Take advantage of gravity so you are washing in the direction identified as where the run-off will travel.
Always read and carefully follow the instructions if you're going to pressure wash your property and cornet structures yourself
For More Information About Our Professional Pressure Washing Services
Kwik-Klean is the expert in pressure washing concrete driveways, walkways, fences, and decks. We provide professional pressure washing services in Metro Detroit to include Rochester Hills, Troy, Sterling Heights, Warren, and the surrounding areas. Our experienced and knowledgeable staff are trained to know just how to clean concrete for your home or business with quality pressure washing services. We are proud to say, that we have been providing our pressure washing services for 30 years! For more information on our pressure washing services or to schedule an onsite free estimate, please call us today at (248) 852-7141.