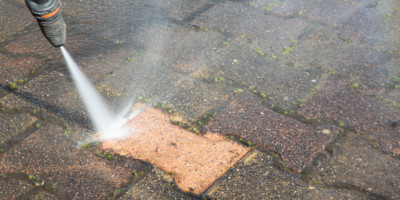 Business and property owners handle many tasks at once. They have to take care of procurement, sales, finance, hiring, and so much more. These several responsibilities often leave them with no time for other tasks, which though may be small, are as important as most of the other vital tasks businesses have to take care of. One such crucial task that businesses and property owners often forget to pay any attention to is power washing.
Through this article, we aim to bring the owners' attention back to why pressure washing is important for most businesses.
It Helps Improve Your Business' Appearance
First impression matters. If you make the right first impression, people will return to your services.
As years pass by, properties and businesses begin to appear old and tattered. All the crisp white tones turn to greyish-brown eventually, in the process leaving your business looking old and gutted. Similarly, sometimes business owners and clients get tired of looking at the same old and therefore, decide to refurbish the place altogether. Irrespective of whether you want to revive your business' old crisp and clean looks or want to create a clean base for refurbishment, commercial power washing will help you with both. It will help you get rid of all the stubborn grime and dirt that keeps your business from looking its best.
Helps Get Rid of Graffiti and Other Stubborn Marks or Prints
When it comes to things like graffiti and grime, most business owners believe that the only answer to these problems is renovation. Only a new siding or a new patio can help one get rid of the dirt and grime that has developed over structures over the years or the graffiti that an overtly creative person left on your business in the middle of the night. Thus, if there is a graffiti art you are dealing with or want to get rid of the grime stuck on your brick, concrete, and wood surfaces, do not make a hasty decision. Instead, hire a professional commercial pressure washing company and let them try to get rid of the problem for you — you will be surprised to see how effective pressure washing is.
Regular Pressure Washing Allows You to Focus on Your Customers
If you are a business owner who does not have a lot of free time, it's best to add commercial pressure washing to your list of regular chores. Routine pressure washing will take care of all the small problems as and when they happen, thereby not giving them the chance to turn into big issues. Moreover, scheduled pressure washing also ensures that your business is always ready to welcome and impress new customers.
Consumers have become very smart these days — they notice every small detail about a business. Thus, business owners have to remain sharp and think about several things at once. By scheduling regular commercial pressure washing, they can at least cut one of the many things from their long list. Moreover, they can stay sure about having their business always ready to welcome new customers.
For More Information About Our Professional Pressure Washing Services
Kwik-Klean is the expert in pressure washing concrete driveways, walkways, fences, and decks. We provide professional pressure washing services in Metro Detroit to include Rochester Hills, Troy, Sterling Heights, Warren, and the surrounding areas. Our experienced and knowledgeable staff are trained to know just how to clean concrete for your home or business with quality pressure washing services. We are proud to say, that we have been providing our pressure washing services for 30 years! For more information on our pressure washing services or to schedule an onsite free estimate, please call us today at (248) 852-7141.