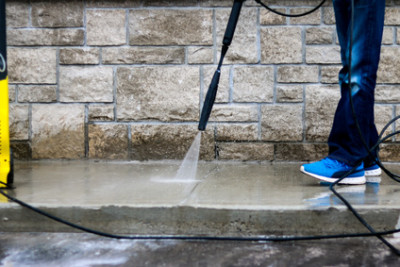 First impressions are important, especially when it comes to your business. Often the first thing customers notice is the cleanliness of the facility. If the facility seems dirty and unkempt, more than likely they won't return. You probably have a daily routine to maintain the safety and appearance of the inside of your business, but have you put that same effort into the outside of your building?
The parking lot and storefront entrance are the first things that customers see when they arrive at your business. Seeing dirt, mold, or stuck on stains is unappealing to customers and takes away from the image you work hard to project. Don't let your parking lot and sidewalk fall through the cracks of your cleaning routine. Have your storefront regularly pressure washed to restore your storefront to its previous glory.
Having Your Business Pressure Washed Won't Cost You Business
One common concern regarding having parking lots professionally cleaned is that the cleaning process will result in lost business due to being closed for several hours. Having a trusted pressure washing company that works around your hours can help eliminate this issue! In fact, once that pressure washing is complete, the clean and fresh appearance may bring you return business. Often yelp reviews and word of mouth about customer service and cleanliness is imperative to bringing return customers and new customers alike.
The time it takes to have your parking lot and storefront pressure washed will vary on the size of the lot and sidewalk to be cleaned. The process could take anywhere from 30 minutes to several hours if you have a large lot. With that in mind, it's more important than ever to have a pressure washing company that works around your hours and at your convenience.
How Often Should I Have My Storefront Professionally Cleaned?
You may be wondering just how often you should have your business professionally pressure washed. A great rule of thumb is to pressure wash based on the amount of foot traffic your business has. An office building generally can maintain a pristine appearance by being pressure washed seasonally.
Healthcare facilities or restaurants may need more frequent cleanings due to higher foot traffic and healthcare concerns. In these cases, many owners opt to have their facilities pressure washed quarterly to keep up with foot traffic.
The Importance of Hiring Professionals to Pressure Wash Your Business
It may be tempting to have your regular maintenance person pressure wash your facility to maintain the appearance of your facility. However, pressure washing comes with the risk of injury due to the high velocity of the water. Having a maintenance person pressure wash your lot puts them at risk of injuring themselves on the job.
With that same water pressure, there's also the risk of damaging your lot or entrance way. Professionals use a mobile pressure washing unit that steam cleans the area and reduces the likelihood of damage. Hiring professional pressure washers can give you the peace of mind that your property will be properly cleaned in a timely manner, without injury or damage.
You work hard to ensure the safety and cleanliness of your building, don't let the outside fall through the cracks! Give Kwik-Klean a call today at (248) 852-7141 to schedule a pressure washing at a time that works for you!