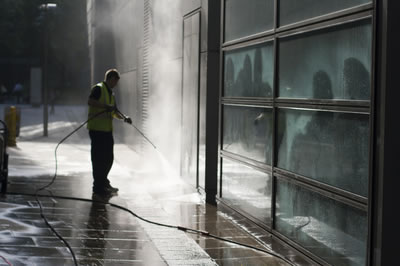 The first thing a new customer or even a long time customer notices about your business is the outside of the building. Even if you have a great property manager, sometimes the little details are the things that get missed. Washing the outside of your building is sometimes one of the tasks that is forgotten, and when neglected for a long time, can cause costly damages to your building. Since the outside of your building is not only a big investment for your business but also the first thing your Oakland County customers notice about you, it's a great idea to hire a professional Pressure washing company to keep your business in Oakland County looking great!
A Great First Impression
You know that saying, about only getting one chance to make a great first impression? Generally, we think about that saying for ourselves, but it also holds true for our businesses. A dirty exterior isn't a great first impression to make with customers and potential clients. If your business is residential leasing, a dirty and poorly kept exterior can turn off potential tenants from leasing from you. It's hard to believe, but the cleanliness of your business's exterior can bring in customers, or cause you to lose money and clients. The easy solution? Hire a professional Pressure washing company to get your buildings in tip-top shape. A clean exterior for your business is a great way to make a good first impression, and it's a lot easier to convince a customer or new tenant to stay with you, if your business is tidy, inside and out.
Dirt = Damage
It is hard to think of dirt causing enough damage to your business or building that it actually costs you substantial amounts of money in repair costs. Many times, expensive repairs to your business can be avoided, just by keeping your building's exterior clean and looking great. Even worse, a dirty facility can contribute to injuries and that costs money and time that you just don't want to spend. If you still aren't convinced, here are some ways dirt and grime can cost your business money:
Windows that need to be replaced because they are too dirty to clean.
Gutters that are damaged because they've never been cleaned out.
Insurance claims from people that slip on ice, algae or trip on heaved concrete.
Concrete damaged by water, mold or mildew.
Regular Cleaning Keeps Things Simple
When it comes right down to it, it's easier to keep your property clean with regular Pressure washing services, than to try and fix damages or remove years and years of built-up dirt and grime. Yes, Pressure washing is a much more affordable option than fixing damages, but if you put off keeping your property clean, it will take much longer and cost you more than if you just make Pressure washing a part of your normal building maintenance.
I Am Looking for a Commercial Pressure Washing Company Near Me!
Providing businesses with outstanding pressure washing services is our goal at Kwik-Klean. We know that your business is an important part of your life, and livelihood, so we work closely with you and your property manager to insure that your property is clean and looks great. If your business hasn't had a good pressure washing in a while, let us show you what a difference it makes to your customers, tenants and clients. Call us today to schedule an estimate.