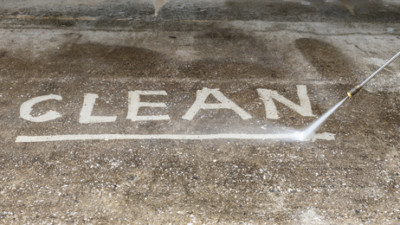 Have you been considering hiring a pressure washing company to clean your commercial property or business in Rochester Hills? With so many aspects to think about, it can be overwhelming trying to select the best company to get the job done. Most people know very little if anything about pressure washing for a business, which is why we decided to compile this reference guide to help you.
1. Cheapest Isn't Always Best
As the popular saying goes, "you get what you pay for." Most people will look at prices alone and will make a decision based on the cheapest. However, if a company is charging significantly less than others in the same area, there may be a reason. We encourage you to do some research before hiring a pressure company for your business. Although cost is important, there are other things to consider as well.
2. Ensure There is a Guarantee
Honesty and professionalism are crucial when selecting a commercial pressure washing company in Rochester Hills. That means in the event something goes wrong or you are not pleased with the service; the company will appropriately compensate you. We also recommend making sure there is a guarantee written in the agreement when you receive your estimate. That way, if you are not pleased with their work, they won't be able to leave with your money.
3. Do Your Research
As previously mentioned, we strongly suggest doing some research before selecting a pressure washer company. This will not only ensure you get the best deal but will also allow you to read any reviews from previous customers. Another tip is, if a company provides you with a quote without taking a trip to see your business or commercial property, you should not trust them. They should not charge you for simply providing an estimate either. While the company comes to your business, it will give you an opportunity to check out the company and ask any questions that you may have. This will give you an indication of their professionalism and experience.
4. Make Sure They Are Insured
Make sure that the pressure washing company has insurance. Accidents happen. In the event that an accident happens, it's in your best interest to make sure the company will compensate you.
5. Are Their Materials and Equipment Professional Grade?
If you are hiring a professional pressure washing company in the Rochester Hills area, you should expect to receive professional service and equipment. If it looks like they are using materials and equipment that you could purchase yourself, there is a good chance that they are not a professional pressure washing company.
Here at Kwik-Klean, we desire to bring you professional and honest service. If you are interested in getting a free quote for pressure washing your business in Rochester Hills, please contact us at 248-852-7141.