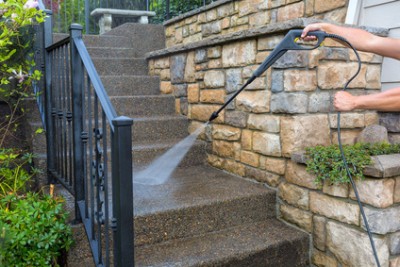 When is the last time you have cleaned your kitchen? Washed your floors? Cleaned your shower? For most people, it is likely you clean your home daily, if not weekly. Now, what about the outside of your home? When is the last time you pressure washed your residence, if ever? Taking care of the exterior of your Rochester Hills home is equally important as taking care of the inside. Not to mention, it is the part of your home that everyone sees! With having to endure a variety of Michigan's climate changes and weather elements, the outside of your home may be looking dull or dirty. If this sounds like your home, not to fear! Pressure washing your residence can get your home in Rochester Hills looking clean and good as new.
What is Pressure Washing?
Here at Kwik-Klean, we use pressure washing equipment that shoots water at extremely high pressures in order to clean a multitude of outdoor surfaces. The high pressure is needed to get deep dirt particles removed, that will not succumb to water and brushing alone. Decks, driveways, roofs, siding, and pools can all be pressure washed. This method of cleaning is so proficient that many Rochester Hills homeowners are turning to professional companies to clean all outside facets of their home.
Can I Pressure Wash on my Own?
The short answer is yes. But it is NOT recommended. It may appear easy to pressure wash your home by yourself, but you can put yourself and your home in danger without having the correct knowledge and assistance. Because these machines have so much pressure, it can actually ruin your property in Rochester Hills if you are not careful. You need to ensure you are using the right amount of pressure on the correct surfaces. In addition, some individuals will climb ladders to wash their roofs. If you are not careful, the force that comes from the pressure washer may potentially cause a disastrous outcome. It is best to leave this type of task to professionals that have experience and training in the field.
Are There Harmful Chemicals Involved?
You may be concerned about pressure washing cleaners and chemicals being dangerous to your home, pets, or plants. Most pressure washing companies utilize "green" products, which do not pose a threat to the environment. Since plants can be damaged by any form of cleaners, you can always cover them if it will give you a piece of mind. We also recommend watering your greenery before and after any pressure washing occurs. As long as no cleaner is left on the greenery, no damage should be expected.
With Spring finally here, now is the perfect time to pressure wash your home in Rochester Hills. Give us a call here at Kwik-Klean for more information or to schedule an onsite estimate for residential pressure washing services in Rochester Hills, MI at (248) 852-7141.