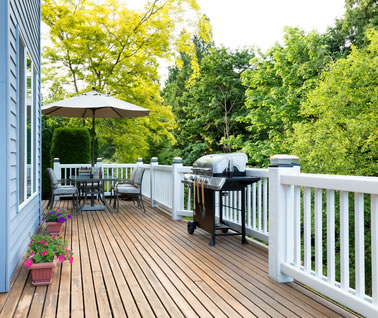 Many composite material manufacturers will claim that their product is "maintenance free." We rarely find a product that is truly maintenance free. Even the most durable building products will benefit from regular cleaning and gentle upkeep. This is true for your composite decks and fences. These products are great options if you want a great looking fence or deck without the work of natural wood. However, they still require some care and tending, to keep them looking great. If your composite deck or fence is looking a little dingy, here's how Kwik-Klean can help.
What Makes Composite Look Aged?
There are a variety of reasons that your composite decking or fencing may look less than amazing. Over time, just like with wood, composite materials can collect dirt and debris that can start to diminish the look of the material. We often see fences and decking that have not been cleaned for in a while that have a build-up of dirt, mold and mildew that has dulled the composite material, and left it looking worn. Other things that can make your composite decking or fencing look worn include sap from trees, oil, grease and food, and even ice and snow. When your decking or fencing starts to look poor, it's easy to jump on the bandwagon of having your deck or fence replaced. However, before you spend a lot of money replacing your deck or fence, consider a professional cleaning to bring your composite materials back to their original beauty.
Cleaning Composite
Making your composite decking and fencing look great is an easy task for a professional power washing company. We use a gentle cleaning solution that is specific for cleaning composite materials. Other cleaning solutions may cause bleaching or staining of your composite material, so it's important to have a professional, using professional quality cleaners work on your fencing or decking. To supplement the gentle cleaning solutions, we use a low pressure power wash to strip dirt, grime, mold, mildew and other stains and debris from your deck and fencing. Most composite decking and fencing manufacturers recommend that your deck or fence be cleaned biannually by a professional, using composite friendly materials and cleaning techniques.
Why Not DIY?
We see many clients that have tried to make cleaning their composite fencing and decking a DIY project. More often than not, this can result in bigger problems than just having a dirty deck or fence. Using the wrong cleaners can stain, bleach or cause other damages to your composite decking or fencing. Too much pressure from your power washer can breakdown composite decking or fencing, causing grooves or other damages. In worse case scenarios, too much pressure from your power washer can damage decking or fencing so badly that your only option is replacement.
What You Can Do
There are steps that you can take, to prolong the look of a freshly cleaned deck or fence. For your deck, make sure that you are sweeping off dirt and debris like leaves or lawn clippings frequently. Leaving debris and dirt sitting on your deck, can cause build-up, over time. During the winter, make sure that you use a plastic shovel to clean off your deck, and only use ice melt products that are safe for composite decking. For your fence and deck, it is a great idea to wash down your deck and fence periodically with a gentle hose. This will rinse off any dirt and grime that you can't get off with a broom.
I Want To Hire The Best Pressure Washing Company Near Me!
Your composite deck or fence is a big investment for your home. Caring for it properly will increase the life of the material and keep it looking great for a long time. If your composite deck or fence needs professional cleaning, please call us today at (248) 852-7141 for a free estimate on pressure washing services near you.