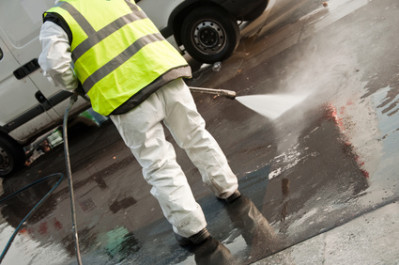 The summertime is when most people start their home projects. You may see your neighbors gardening or building decks to make their home and garden look nice. You may also see your neighbor's pressure washing the exterior of their house and their patio.
It can be tempting to do the same and use a rented pressure washer to get some of your own cleaning done. However, professional pressure washing yields better results than attempting to pressure wash your home on your own.
What Is Professional Pressure Washing?
Pressure washing is the use of high-pressure water spray to remove loose paint, grime, and dirt from the surface of buildings, sidewalk, wood, and concrete surfaces. Professional pressure washing companies use top of the line equipment that provides a more powerful stream of water and ensures the cleanest surface. Professional pressure washers use cleaning agents alongside high-pressure units to remove even the hardest stains.
Professional pressure wash companies are highly experienced in using these high power pressure washers and can safely and effectively wash a variety of surfaces without causing damage to the home or business. Often, amateurs can cause more damage to their home or business by not properly pressure washing an area.
What Exactly Can Professional Pressure Washers Clean?
Since professional pressure washing can remove even the toughest stains, you may be wondering what that includes. In fact, there may be areas in your home or business that you thought you had to repair or replace due to these stains. Professional pressure washing may be the answer for you! Here are just a few examples of what professional pressure washing can clean.
Hard Water Stains. Hard water stains build up on surfaces after water evaporates and leaves behind minerals like magnesium and calcium. These stains are often rust colored or white marks that are difficult to remove. Professional pressure washing removes these stains with ease and restores your home or commercial property to its previous glory.
Graffiti is a growing problem for many commercial properties. This vandalism is hard to remove and regular cleaning methods leave the markings a shade lighter but still visible in many cases. Instead of giving up and replacing the vandalized area, allow professional pressure washers to remove even the toughest graffiti stains through the use of formulated graffiti remover and top of the line equipment.
Oil Stains. Oil stains are a common problem for many residential and commercial properties. Scrubbing these spots clean often doesn't yield any results and renting a pressure washer can still leave remnants of the stain behind. Professional pressure washing companies can easily remove these stains and leave your driveway or parking lot looking like new.
Professional Pressure Washing Isn't Just For The Big Jobs
Even if you notice minor imperfections at your home or commercial property, professional pressure washing may be the solution. Professional pressure washing isn't just for the most difficult jobs, but any area that needs improvement. Professional pressure washing can remove dirt, mold, gum, or paint from surfaces from services as well as the more difficult stains.
If you're ready to get your home or commercial property in top shape this summer, don't hesitate to give us a call today at (248) 852-7141 to see what professional pressure washing can do for you!