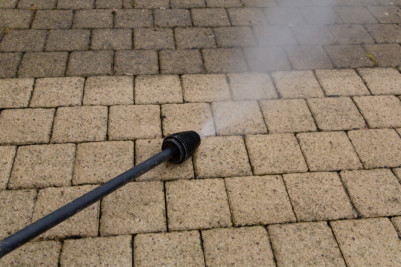 Brick pavers are a popular hardscape material among Macomb County homeowners as they offer durability as well as design versatility. They also require less maintenance than other materials, however, they are not maintenance free.
Keep reading on how to protect your brick paver investment and why hiring a professional pressure washing company can extend the life of your hardscape structure.
How Can I Maintain My Brick Paver Surface?
If you have invested in brick pavers, you will want to perform the required maintenance to keep your paver stones in the best condition possible. So what maintenance is required?
Your paver structure will need to be cleaned, re-sanded and resealed every 2 years. Sealing brick pavers protects them from everyday wear and tear, mold and debris, stains from oil and other liquids and even winter weather.
Some sealants will not only protect the brick but will enhance the brick color or leave a glossy, wet finish.
Use a Pressure Washer to Clean and Strip the Brick Pavers
Before resealing can begin, the paver structure must be cleaned thoroughly to remove all dirt and grime. Otherwise, you will be sealing in the old debris.
Additionally, all old sealant applications must be removed by applying a brick paver stripper and then pressure washing the entire surface to restore the brick to its original look.
Finally, the joints are ready to be re-sanded and the proper sealant can be applied to the clean surface.
Is this a DIY Project or Should I Hire a Professional Pressure Washing Company?
In theory, it is certainly possible for the eager do-it-yourselfer to use a pressure washer and handle their own brick paver maintenance. However, using a pressure washer is not an everyday task that most people are accustomed to and can even be dangerous. It might look as simple as using an enhanced garden hose, but if you were to put your hand in front of the stream, or if the stream accidentally touches your foot, this could result in a serious injury.
The other advantage of hiring a professional pressure washing company for brick paver restoration is that they have experience with the entire process, from power washing, stripping the old sealant, re-sanding and sealing the surface.
At Kwik-Klean we apply a bio-degradable brick cleaning solution in combination with pressure washing to remove all debris and we have access to the best brick paver stripper and sealant products.
I need a FREE Quote from a Pressure Washing Company Servicing Macomb County!
If you have a brick paver driveway, patio or walkway that needs to be cleaned and resealed, contact the professionals at Kwik-Klean today. Kwik-Klean specializes in pressure washing brick pavers, concrete, wood decks and various other surfaces for residential and commercial buildings.
We provide pressure washing services to Macomb County as well as throughout Southeast Michigan so give us a call today at 248-852-7141.