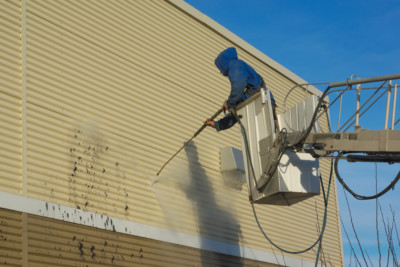 Homeowners often complain that buying a home is easier than maintaining one — there is always something that needs repairing or replacement. However, regular maintenance and routine cleaning can help homeowners save big money in the long run.
The siding of a home is an area that needs regular cleaning. However, many homeowners completely ignore their home's siding, unaware of the fact that routine cleaning can help them save a lot of money over time. A clean siding not only reduces total energy costs but also serves as a barrier against pests. So, how often do we need to clean our home's siding? Your home's siding requires proper cleaning only once every year. However, if you have ignored your home's siding for way too long, cleaning it may not be enough and you may even have to replace it.
The question is how do homeowners know when to clean and when to replace a home's siding?
When Is Cleaning Enough?
Before going out and spending your hard-earned money on a new siding, do a thorough check-up to understand if just cleaning will serve the purpose. Here's when cleaning the siding should be enough.
You are dealing with dirt and mildew build-up
In case you have vinyl siding and you haven't cleaned it for more than six months, you should be able to get rid of all the marks and spots with regular cleaning
In the case of wood or aluminum siding, regular cleaning is needed at least once every year
You have noticed some dark spots in nooks and corners
In the above situations, cleaning is enough to get rid of most of the problems. In case you are dealing with stubborn marks and stains, pressure washing your siding will help you restore its health to as good as new.
How Do You Know Your Sidings Needs to Be Replaced?
As homeowners, you must know that it does not matter how often you clean your sidings, they will someday need replacement. However, more often than not, normal cleaning will suffice. Here are a few signs that say that your siding has outlived its life and needs replacement.
You can see cracks building up and there are also signs of peeling
Your energy bill has suddenly shot up. If that happens, an ineffective siding could be the real culprit
You are seeing bubbles, which usually indicate a moisture issue
Here's Why You Should Consult Professionals
Sometimes it's easy to tell whether your siding needs cleaning or replacement. However, at times, homeowners do not have enough experience and training to figure out the correct problem and its right solution. You may think that you can rent our pressure washing equipment and get rid of the problem yourself, but be careful. Pressure washing equipment is tricky — you set the pressure wrong and you will end up causing more damage than good. Whether you are looking at cleaning or replacement, it is always a better idea to hire a professional. Professionals have years of experience and have handled all kinds of siding-related issues. They will be able to recommend the right solution. More importantly, you will have your peace of mind intact and you will also be able to save money in the long run.
For More Information About Our Professional Pressure Washing Services
Kwik-Klean is the expert in pressure washing concrete homes, driveways, walkways, fences, and decks. We provide professional pressure washing services in Metro Detroit to include Rochester Hills, Troy, Sterling Heights, Warren, and the surrounding areas. Our experienced and knowledgeable staff are trained to know just how to clean concrete for your home or business with quality pressure washing services. We are proud to say, that we have been providing our pressure washing services for 30 years! For more information on our pressure washing services or to schedule an onsite free estimate, please call us today at (248) 852-7141.