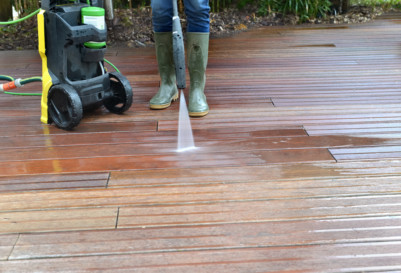 Patios are an integral component of any home and when done right, they add significantly to a home's beauty. However, patios remain exposed to extreme weather conditions and thus, their quality and beauty often deteriorate over time. The effect of these extreme weather conditions can be minimized through regular cleaning. To most homeowners, cleaning their patio seems like the most challenging task. However, some simple tips and tricks can make cleaning the patio quite easy. In this article, we discuss these tips and tricks.
Follow These Simple Steps to Make Your Patio Perfectly Clean
Prepare the Area for Cleaning
If you want to clean your patio properly, instead of focussing on creating the right cleaning solution, you must first prepare the area for cleaning. This would involve removing all the furniture and plants in the area. If your patio has any weeds, you will have to find some time to pull out all the weeds. Once you have cleared the area, sweep it clean to get rid of any dust and grime that may have deposited on the surface over time.
Get Started with the Cleaning Process
Once you have cleaned the area, it is time to get started with the actual cleaning process. Before you start cleaning your patio, know that what worked for someone else's patio may not work for yours. Thus, be ready to try different cleaning methods. If your patio is only mildly dirty, all you need is a simple cleaner and a good-quality brush. If some stains refuse to go with the cleaning solution, you can create a bleach and water solution to get rid of such stains. Take a spray bottle and add some water to it. To the water, add a few drops of dishwashing detergent and a little bit of bleach (bleach and water should be in 1:9 ratio). Spray this mixture on stains and marks and let the solution sit for a while before rinsing it cleaning with a hard-bristled brush.
While cleaning your patio, remember two things. First, never use a metal-bristled brush to clean your patio — you will do more harm than good. Second, do not use a bleach solution if your patio has a surrounding flower bed. If you must use bleach, use oxygen bleach instead of normal bleach.
Pressure Wash Your Patio to Get Rid of Stubborn Stains
While most stains go with homemade solutions, some stains and marks are stubborn and do not yield to normal cleaning solutions. In such a case, your only option is to pressure wash your patio. These days, one can easily rent out pressure washing equipment. However, if you decide to pressure wash your patio on your own, make sure to take proper precautions: wear gloves and cover your eyes, preferably with a face shield. In case you are unsure of how to pressure wash a patio, do not take any chances — just hire a professional.
The Final Word
Patios add not only to the beauty of a home but also to its real estate value. A clean and well-kept patio is a sight for sore eyes. Thus, homeowners must find the time to clean and maintain their patio, even if they find the task challenging.
For More Information About Our Professional Pressure Washing Services
Kwik-Klean is the expert in pressure washing concrete homes, driveways, walkways, fences, and decks. We provide professional pressure washing services in Metro Detroit to include Rochester Hills, Troy, Sterling Heights, Warren, and the surrounding areas. Our experienced and knowledgeable staff are trained to know just how to clean concrete for your home or business with quality pressure washing services. We are proud to say, that we have been providing our pressure washing services for 30 years! For more information on our pressure washing services or to schedule an onsite free estimate, please call us today at (248) 852-7141.