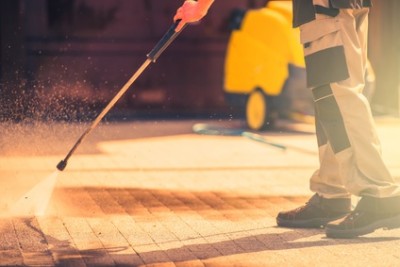 The long, cold, wet winter has finally left us and spring is here in Michigan. This means your Metro Detroit home or business is probably in need of a good spring cleaning. Why not make your clean up a little less daunting and hire a professional pressure washing company to help you with the work?
Pressure washing can create a spray that is significantly more powerful than any garden hose and there are various exterior surfaces that can benefit. However, this task is best left to a professional company. In order to help you help you decide whether or not this is something, you should invest in, here is a list of 3 reasons to hire a Metro Detroit pressure washing company.
Remove Allergens From Your Building's Exterior
Although many Metro Detroiters have been counting down the days for spring to get here, unfortunately, many of us don't see the arrival of spring as much as we feel it in our sinuses. Pollen, dandelions, and many other allergens can make this season rather uncomfortable and even difficult to breathe. Did you know that power washing can improve these allergy symptoms?
Consider hiring a professional pressure washing company to blast away these allergens from your building's exterior along with all of the other dirt and debris.
Professional Pressure Washers Can Reach Difficult Areas
Do you have windows or any other exterior areas that are too high to reach without a ladder? Rather than risk injury, contact a Metro Detroit professional pressure washing company. Using a pressure washer is not an everyday task that you are accustomed to. So don't increase the risk by using one several feet in the air while trying to keep your balance. Professional pressure washers are trained and have the right equipment to access those hard-to-reach areas. They also know the right amount of pressure to use for various materials. For example, you wouldn't use the same amount of pressure on glass windows as you would on brick walls.
Remover Leftover Salt
Although salt or ice melt is essential to keep driveways and walkways accessible in the winter, it can really take a toll on your concrete and brick pavers.
Not only does this leftover white film look dingy and dirty, it can actually eat away at concrete and brick materials if not removed. Invest in a pressure washing company now to clean the leftover salt and avoid the cost of repairing or replacing your hardscape structures down the road.
Contact a Metro Detroit Pressure Washing Company
With the harsh winter behind us and the summer on the way, now is the perfect time to remove dirt, grime and allergens from your building!
To see how your property can be professionally pressure washed, contact Kwik-Klean Inc. today. We provide pressure washing to residential and commercial customers throughout the Metro Detroit area. Call Kwik Klean at (248) 852-7141.