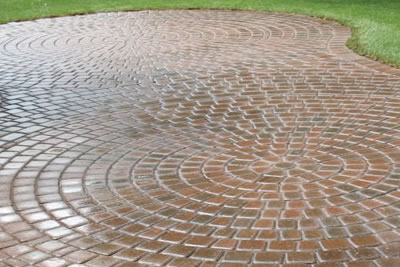 There is nothing more disappointing, than looking at your brick paver surfaces and seeing white film, moss, weeds and stains from automotive fluids or foods. You probably spent good money on installing your brick paver hardscape, so when it starts to look messy, it can really make you feel frustrated. Many times, homeowners in Oakland County think that the only solution they have to fixing a messy looking brick paver surface is to pull it out and start again. However, most of the time, that isn't the case. Your brick paver surface can look new again, with a good cleaning and resealing of your pavers.
Away with the Old
To prep your brick pavers for cleaning, the first thing we need to do is to strip away any old sealer that may be left on your bricks. This old sealant can make your pavers look dingy, leaving a yellow tint to your bricks. Old sealer can also flake and crack, leaving your brick pavers looking old and worn. To make the most of a good cleaning, we start by taking off any old layers of sealer and getting down to the brick surface.
Pressure Off the Grime
Once any old sealant has been removed from your pavers, we get to business by pressure washing your brick pavers. Over time, the salts and minerals in your bricks can leach out, and give your bricks a chalky appearance. pressure washing will remove this chalky film, leaving your brick pavers looking like new. Our pressure washing process will also remove moss, stains and weeds from your brick paver surface, making it look like new again! We are often called by a homeowner who tries to do this process themselves, with less than amazing results. We recommend that you leave pressure washing your brick paver surfaces to the professionals. We have years of experience and will clean your pavers using environmentally friendly cleaning solutions and pressure washing techniques that protect both your landscape and your paver surface.
Fill in the Gaps
The sand that has been used to fill the gaps between brick pavers can easily be washed away during our pressure washing process, or be gradually lost over time due to rain, snow, insects and wear and tear. Once your pavers are clean and looking new, we will refill these gaps using a polymeric sand that matches your pavers. This will hold your pavers in place and help keep insects and weeds from living in your paver surface.
Seal it Up
The last step in the process of making your brick paver surface look like new, is to reseal your bricks. Paver sealants are intended to set your filler sand in place, and give your brick pavers some extra protection from normal wear and tear. There are two options for brick paver sealers: Acrylic or penetrating sealer. Both sealants provide the same protection to your brick paver surfaces, but differ in the way they make your pavers look. Acrylic sealers will give your brick pavers a glossy look, and really bring out the colors in the brick. For a more natural look, select the penetrating sealer. This product will keep the matte look of your brick, but still provide ample protection from wear and tear.
Restoring your brick pavers doesn't have to mean a complete redo of your hard surfaces. For many Oakland County homeowners, paver surfaces can be restored to their original beauty with a good cleaning and resealing.
Looking for the Best Paver Cleaning and Sealing Company in Oakland County, MI?
If your brick paver surfaces need a new shine, call the Oakland County pressure washing professionals at Kwik-Klean. Our pressure washing experts will get your paver surfaces looking like new, in no time. To schedule an estimate, please call us today at (248) 852-7141.