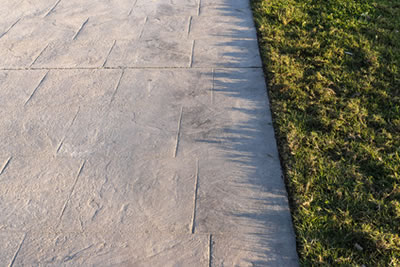 If you have a stamped concrete surface at your Macomb County home or business, you probably have wondered how to care for it properly and what to do to make it look like new again. Like other hardscape surfaces, stamped concrete can start to look worn over time. This doesn't mean that you have to replace the surface. A good cleaning by a professional pressure washing service can make all the difference. Your stamped concrete needs special care, and can be damaged if you try to do the work yourself. Here is how a professional will care for your stamped concrete surfaces.
Brush it Off
The first step in getting your stamped concrete surfaces looking like new is to get rid of all of the dry debris. We don't need to pressure wash your surface to do this, and it actually gives us an opportunity to assess the condition of your concrete. We start cleaning your concrete surfaces by either sweeping or blowing away dry material such as sand, leaves and lawn debris. This gives us a fresh surface to work with and helps us ensure that we won't damage or cause further damage to your stamped concrete surfaces.
A Good Scrubbing
The thing about concrete is that it tends to hold on to things like gum, oil and other stains really well. Even on sealed stamped concrete, stains and sticky stuff can be a pain to get rid of. To make this job easier, we use an environmentally safe cleaner to pull up the junk. This cleaner is applied to your concrete, and allowed to soak, before we use a gentle scrubber to remove the stains and gum from your surfaces. This gentle scrubbing is safe for your stamped concrete and allows us to get the surface ready for a new coat of sealant.
Pressure Wash
Once we've scrubbed your stamped concrete, we wash it down using our professional pressure washing tools. It is important in this step to get all of the residual cleaner from the concrete surface, so that it cannot interfere with the sealant. In order to protect any places where your stamped concrete may be damaged, we may use lower pressure to avoid further damage. This step is also when we are able to remove things like weeds that may be growing between cracks, moss that grows along damp areas, and what's left of those stains and sticky stuff.
Dry and Reseal
The last step to getting your stamped concrete looking like new is to reseal the surface. Once we've completed the pressure washing of your concrete, and we are confident that all of the cleaner, stains and sticky stuff is gone, we will dry off your concrete. We can do this in two ways; by letting it dry on its own, or using a blower to speed up the process. Once the concrete has dried sufficiently, we will apply a new coat of sealant. Similar to the sealants that we use when resealing brick pavers, concrete sealants come in a variety of finishes. Whether you want your stamped concrete to look natural, or you like a bit of shine, concrete sealants make your stamped concrete look great, but also provide extra protection from stains, scratching, and other potential damages.
Looking for the Best Pressure Washing Company Servicing Macomb County?
Kwik-Klean recommends that you leave the work to our professionals. Don't risk damaging your stamped concrete with a DIY cleaning effort. Save money and time, and give us a call for all of your pressure washing and hard surface cleaning needs. For more information on our pressure washing services in Macomb County or Metro Detroit, or to schedule an estimate, call us today at (248) 852-7141.