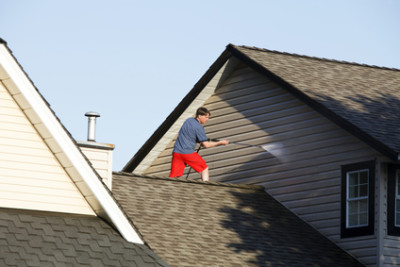 When it comes to our homes, it seems like a never-ending battle to stay on top of maintenance and home care. There's always something that needs to be replaced or renovated, which typically isn't cheap. When it comes to the siding of our homes, having our siding cleaned not only saves money but also lengthens the lifespan of it.
So how do we know when our siding can be cleaned and when it's time to replace it? Generally, siding needs to be cleaned at least once a year and if it's been longer than a year, that could play a part in why your siding looks the way it does. It may not need to be replaced just yet!
More than looks, your home's siding also can help reduce energy costs in your home, protects the frame of your home from the elements, and can help keep pests away! Lengthening the lifespan of your siding should be a top priority, and when necessary, knowing when to replace that siding.
Signs Your Siding Just Needs to Be Cleaned
Before going out and investing in new siding, it's important to make sure it doesn't simply need to be cleaned. Pressure washing is a great way to restore the siding of your home to its original glory, without the cost and hassle of replacing it!
You may need your siding cleaned if:
There is visible dirt and mildew build up
Your vinyl siding has dark spots in nooks and crannies
It's been over a year since you've had your wood or aluminum siding cleaned
It's been over six months since you've had your vinyl siding cleaned
When to Consider Replacing Your Siding
No matter how meticulously you maintain your siding, eventually it will need to be replaced. When debating whether to clean or replace your siding, keep an eye out for a few sure signs of damage.
A few things that may indicate it's time to replace your siding include:
Siding that is cracked or peeling
Bubbles along the surface of siding, which may indicate a moisture problem.
A jump in energy bills, which indicates that your siding is no longer acting as proper insulation
The Benefits of Hiring a Professional
You may be relieved to know that your home siding simply needs to be cleaned. It can be tempting to rent a pressure washer and make a weekend project out of it. However, your best bet is to hire a professional to get the job done.
It's easy to damage siding that may turn your clean up job to a replacement job. Hiring a professional pressure washing company eliminates that risk and gives you peace of mind. If a plank has damage to it, pressure washing may not be the best option as it can add moisture to your siding. Your professional pressure washer is trained to assess the situation to ensure that no damage is done to your home.
If you're ready to extend the life of your siding by having it professionally pressure washed, give us a call today at (248) 852-7141!