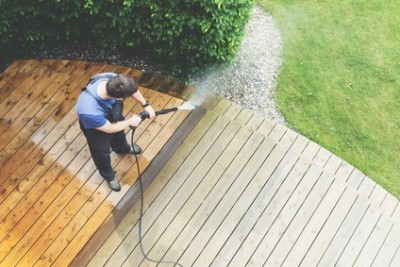 The weathers warming up and with it, so are the barbecues! With the break from the cold weather, families are getting together to enjoy their backyards, grill food, and enjoy the sun. There's something special about sitting on your deck with loved ones and enjoying a soft, summer breeze. But a deck that's dirty can stick out like a sore thumb or worse, may cause you not even want to get together at all due to embarrassment.
Pressure Washing is the Solution to Your Deck Concerns
Don't let concerns over the appearance of your deck stop you from having the summer you want. Consider having your deck professionally pressure washed to help you transform your backyard into an entertainment hub for you and your family.
Pressure washing is the application of high-pressure water to clean surfaces. The high-pressure water is one hundred times more powerful than the typical water hose. This method of cleaning strips away even the hardest stains without hurting the structure of your deck. A deck that's sparkling clean isn't the only reason to consider pressure washing your deck this summer.
Reasons to Have Your Deck Professionally Pressure Washed
Here are some other great reasons to consider having your deck professionally pressure washed this summer:
Pressure washing ensures your deck is safe for your family
Dirt, grime, and mildew build up on the surface of your deck over time. Every time that your family or pets go outside, they're exposed to the contaminants that are on your deck. Pressure washing your deck at least once a year can help rid your deck of contaminants and bacteria that could make your family sick.
Pressure washing can prolong the life of your deck
Not properly maintaining your deck can lead to chipping paint and rotting wood. Wooden decks need to be regularly cleaned to remove the dirt and grime that can compromise the integrity of your deck. Having your deck professionally pressure washed can give you the peace of mind that your deck is not only clean but that you are doing everything in your power to extend the lifespan of your deck.
It's a safer option than doing it yourself
Many people are tempted to rent equipment to pressure wash their own decks. However, if pressure washing is done improperly it could cause serious injury. High-pressure washers shoot hot water out with incredible force. Generally, a pressure washer can pump out over 2,000 pounds per square inch of water pressure. While it may be tempting to pressure wash your own deck, hurting yourself on your summer project can land you indoors for the rest of the warm months.
Time and Weather are On Your Side
With the sun rising earlier and setting later, summer days provide more hours for those landscaping renovations you have in mind. Scheduling a time to have your deck professionally pressure washed is easier than ever in the summer because there is more workable time to schedule around. Summer months also bring drier weather than Winter or Spring, which means that your newly cleaned deck stays clean longer.
If you're ready to enjoy the warm weather on your freshly pressure washed deck this summer, give us a call to get started at (248) 852-7141!