What is Pressure Washing?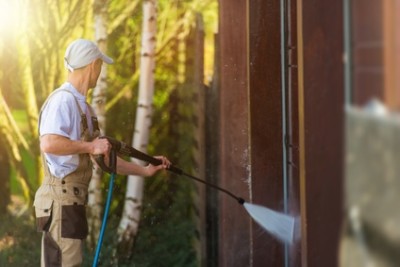 Pressure Washing is a cleaning technique that basically uses high-pressure water spray to clean the surface of residential and commercial buildings. Specially designed machines that help create a jet of high-pressure water are used to clean specific areas effectively. It is recommended by professionals to get your house or commercial building cleaned using pressure washing at least once annually.
This cleaning technique is used to efficiently remove accumulated dirt, stuck mud and other materials such as chewing gum and grime. Loose paint that makes the building look ugly can also be easily removed using pressure washing. Environmental factors like acid rain and other pollutants like smoke and exhaust from the traffic will also damage the overall appearance of your property. The damage caused by these harsh elements can be countered by thoroughly cleaning using pressure washing.
The Benefits of Pressure Washing
Pressure washing has become a preferred cleaning technique for several reasons by homeowners. Here are some of the top reasons for incorporating this technique.
Increase the Value of Your Home
Clean and well-maintained homes are easy to sell and will usually sell for more. A proper power wash will improve the cleanliness of your home and positively impact potential buyers.
Pressure Washing Is Environment-Friendly
This technique uses substantially less water compared to other methods. Pressure washing does not include harmful chemicals that damage the environment.
Enhance the Beauty of Your House
Clean and fresh curb, driveway, roof, and exterior of your house substantially increases the beauty of your home.
Create a Healthy Living Space for Your Family
A house free from mold and pollutants is safer and healthier for the residents of your home and also the residents of the neighborhood.
Cleans Thoroughly
Conventional cleaning methods do not clean as effectively as pressure washing. Because high-pressure water is able to clean hard to reach places, as well as nooks and crannies where brushes and mops can't reach.
Saves on Maintenance and Repairs
Homes that are regularly cleaned using pressure washing require less maintenance and repairs. This can help you save money.
Why You Could Need a Professional for Pressure Washing
If you are considering getting pressure washing done to your home, you do have an option of doing it yourself, but getting pressure washing done by a professional can really make a huge difference. Handling the high-pressure equipment requires some care as this can be dangerous if not handled carefully and can cause serious injury.
Equipment can be expensive to rent or purchase. Furthermore, learning to use the equipment properly can sometimes be tricky. Purchasing equipment that you will use once or twice a year can be considered a bad investment. The pressure washing company will purchase the state of the art commercial equipment, which will include features that do a better job.
Professional pressure washing companies will have a well-trained staff that will know how to clean your home without causing any damage. High-pressure water if not handled properly can cause expensive damage.
A well trained and properly equipped pressure washing company will be able to come up with solutions for cleaning hard to reach places. They will also be able to suggest new ideas where pressure washing can be applied to improve your home, like cleaning the mailbox and other outdoor furniture.