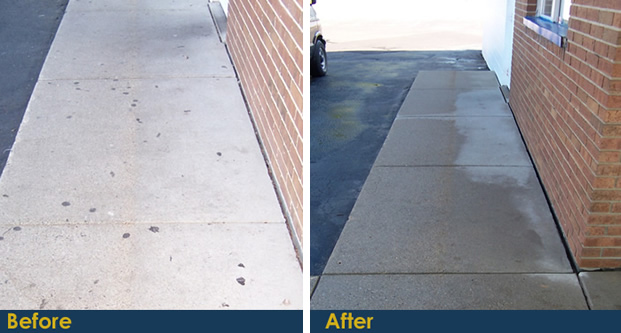 Pressure Washing Can Help Your Michigan Business This Fall
Homeowners everywhere are now getting started on their fall cleanup projects, including preparing the landscaping, cleaning the home's structure, and tackling any repair jobs. The same goes for a commercial space. As a business owner, you can't lock the doors of your building at the end of the day and forget the fall cleaning for your outdoor space. It is crucial to the impression you give, because the appearance of your commercial space is seen before anything else. Ask yourself, would you put your hard earned dollars into a business that looks like it never gets taken care of? Probably not.
Here are a few things you should consider having cleaned on your commercial space this year to prepare for the coming winter and maintain its appearance:
1. Siding Cleaned And Restored
So many people in both residential and commercial spaces are amazed at what their homes and businesses look like after it has been pressure washed. You can hire a professional pressure washing company to tend to your commercial space and make it look like its been renovated, re-painted and like brand new, without doing any of those expensive projects. Pressure washing can completely revitalize the siding of your business to bring back the quality and luster it had when it was first built. Give your clients a clean, professional first impression with restored, pressure washed siding.
2. Annoying Graffiti Removed
Pressure washing can remove any obtrusive graffiti that stains your building and deters potential customers. Vandalism like graffiti can significantly lower the value of your commercial property and shroud it with negative feelings. Pressure washing can completely remove spray paint that diminishes the appearance of your building, and clean it from dirt and mold to prepare it for winter. Built up fungus and mold from decaying matter can damage your building's structure and degrade its quality over time. Pressure washing does not only improve the appearance of your business, but it also increases its longevity by decreasing the need for repairs and replacements.
3. Brick Paved Walkway Brightened
The brick paved walkway and entryway of your business can be completely restored and brightened to its original beauty with the services from a pressure washing company. The brick features amongst your commercial landscaping can become dirty, stained, worn down, and damaged over time due to decaying plant matter, mud, and foot traffic. Pressure washing will clean the bricks as well as the grout in between to completely restore their appearance and remove any stains before they become set in permanently. You can drastically improve the appearance and quality of your commercial space with the services from a pressure washing expert.
Pressure Washing Can Help Your Michigan Business This Fall
Pressure washing is a simple, inexpensive service that can completely alter the appearance of your commercial space and improve its quality by removing even years worth of dirt, grime, and paint. Skip the expensive repairs and renovations this fall with the ideas listed above.
If you need pressure washing for your business, Kwik-Klean is a Michigan pressure washing company serving the entire Metro Detroit Area.
Call Kwik-Klean Today! (248) 852-7141