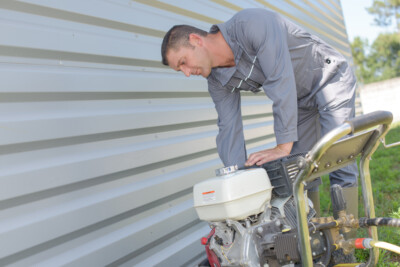 Many homeowners usually turn to pressure washers to get rid of dirt and grime from different types of hard surfaces, including the siding. Pressure washing your siding is an excellent way to brighten up your home's exterior during the summer.
While power cleaning is a highly effective method, there are risks involved. Unless you are a trained and experienced cleaner, you should not try cleaning the siding on your own. Otherwise, you are likely to end up causing untold damage.
Understanding the dangers of pressure washing on your own can save you from unnecessary siding repairs. Keep reading to find out.
What are the dangers of pressure washing siding?
Pressure needs to be adjusted accordingly for each type of siding material. For example, the pressure for washing fiber cement siding cannot be the same for wood and vinyl. Applying maximum pressure on a surface that requires low to medium pressure will, without a doubt, result in damage.
If the pressure washer is handled incorrectly (shooting water up), it can direct a stream of water under the siding. It might soak wall cavities, insulation, and wiring. If water finds its way into the wood between your siding and house, then there is a risk of rotting.
Another common risk of pressure washing siding is physical injury. Maneuvering the power washing machine while perched on a ladder is extremely dangerous for the untrained hands.
Do not power clean with water only!
You can power wash your concrete decks and surfaces with just water and not cause noticeable damage. When it comes to pressure washing siding, however, you will want to avoid that at all costs.
Make sure to use a detergent or specialized cleaner. It helps break down the structures of dirt and grime, making cleaning a lot easier. Using just water means you will spend more time applying pressure for the debris to come off the siding. Unfortunately, this exposes your siding to excess pressure, which might be damaging.
Pressure Washing Siding Tips
· Scrub siding with a soft broom to remove as much dirt as possible before you start pressure washing the surfaces.
· For sidings with fungi and algae, prepare a custom soap mixture that removes the elements. However, make sure to test the cleaning solution on an unconscious part of the siding.
· Use a gun that allows you to blast water at the siding from 30 ft.
· Use low pressure.
· When cleaning vinyl siding, be sure to apply a restoration product to prevent fading and oxidation.
Play safe and hire a professional cleaning service
Leaving the pressure washing task to professionals is worth it. Experts have several tricks up their sleeves to clean your siding quickly and safely. They know the ideal detergents and pressure levels for every siding material.
Trusted professional pressure washing company in Royal Oak, MI
If you have questions or need help to clean your siding in Royal Oak, MI, contact us today. We will be happy to offer you expert advice and a quote!
For More Information About Our Professional Pressure Washing Services
Kwik-Klean is the expert in pressure washing concrete homes, driveways, walkways, fences, and decks. We provide professional pressure washing services in Metro Detroit to include Rochester Hills, Troy, Sterling Heights, Warren, and the surrounding areas. Our experienced and knowledgeable staff are trained to know just how to clean concrete for your home or business with quality pressure washing services. We are proud to say, that we have been providing our pressure washing services for 30 years! For more information on our pressure washing services or to schedule an onsite free estimate, please call us today at (248) 852-7141.