Why Hiring Professionals to Pressure Wash Concrete Surfaces Is a Good Idea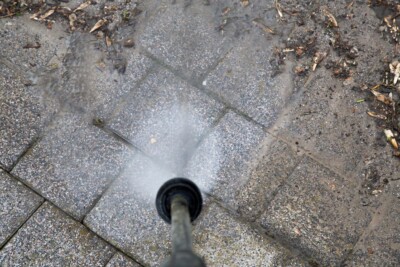 Newly installed concrete looks beautiful – there's no doubt about that. However, both residential and commercial concrete surfaces are subjected to a host of unwanted elements, such as dirt, algae, oil stains, acidic spills, mold, and mildew. Cleaning concrete regularly should be a top priority for any property owner who wants to keep their exterior surfaces in good condition.
When it comes to cleaning concrete, there's arguably no better way to handle the task than pressure washing. Homeowners in Utica, MI, are gravitating towards pressure washing, with many opting for the DIY power cleaning approach.
But before you rent equipment and start pressure washing your concrete patios, driveway, and walkaways – make sure you're a trained and experienced cleaner. The porous nature of concrete makes it challenging to clean properly for the untrained eye.
Here's why hiring professionals to pressure wash your concrete surfaces is a good idea.
Avoid concrete damage and physical injury
Power washers can generate between 1,500 and 4,000 pounds per square inch (psi). They are 30 to 80 times more powerful than a garden hose.
Based on this, you can easily tell that the high power of this piece of equipment can damage concrete surfaces if operated and handled incorrectly. It can cause damage in the form of pitting, lines, or general surface degradation.
When misdirected, pressure washers can cut deep into the skin and tear it in an instant. There is also the risk of eye injuries.
Some of the common mistakes DIYers make include:
Pressure washing with too much water
Using too much pressure
Applying wrong cleaning chemicals
Applying ineffective methods and techniques
Save time and money
Saving money is certainly the reason many homeowners choose to power wash concrete driveways and walkaways by themselves. What they fail to realize is that once they rent equipment, they become liable for any damages to the pressure washer.
Fixing a broken pressure washing machine, in most cases, proves expensive than hiring a professional cleaner. Also, in the hands of the inexperienced, the cleaning equipment can use excess water than usual, increasing the water bill.
Pressure washing concrete surfaces can turn out to be a time-consuming task than you expect. Without knowing the effective cleaning methods and techniques professionals use, you are likely to end up frustrated and dissatisfied with the results even after investing a lot of your time.
Improve curb appeal and enhance property value
Keeping your concrete surfaces clear of dirt, grime, stains, mold, and algae is an excellent way to improve your curb appeal. Spotlessly clean patios, driveways, and walkways create a first good impression on anyone that sets foot in your residential or commercial property.
What's more, well maintained concrete surfaces improve the value of your property. This is especially important when you're looking to attract potential property buyers.
Professional Concrete Pressure Washing Services In Utica, MI
If you need experienced professionals to power wash your concrete surfaces in Utica, MI, contact us to schedule an onsite free estimate.
For More Information About Our Professional Pressure Washing Services
Kwik-Klean is the expert in pressure washing concrete homes, driveways, walkways, fences, and decks. We provide professional pressure washing services in Metro Detroit to include Rochester Hills, Troy, Sterling Heights, Warren, and the surrounding areas. Our experienced and knowledgeable staff are trained to know just how to clean concrete for your home or business with quality pressure washing services. We are proud to say, that we have been providing our pressure washing services for 30 years! For more information on our pressure washing services or to schedule an onsite free estimate, please call us today at (248) 852-7141.