Hiring a professional pressure washing company that services Troy, Michigan is the best way to revitalize your hardscape surfaces.
If you're a property owner in Troy, Michigan, you understand the work it takes to keep your property looking gorgeous. Inside and out, any building you live in or work in will develop some wear and tear. The best way to improve a building that has been stained by natural debris, mold, grime, or other nasty materials is to hire a pressure washing company that services Troy, Michigan. They won't just remove visible stains; they will also clean out the areas of a building you don't normally think of where dirt and grime is found. There are a variety of surfaces pressure washing can revitalize. As we discuss them, consider if any exteriors on your home or business in Troy, MI needs a good pressure washing.
Brick Paved Exteriors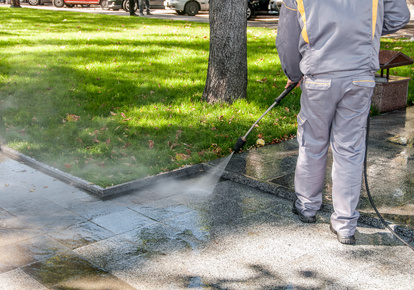 Brick paved buildings, walkways, and patios are popular choices for homes, apartments, and commercial sites in Troy, Michigan. Bricks are enduring and bring a certain charm. However, that look can quickly fade away if it's not taken care of. The nooks and crannies of those bricks need to be cleaned thoroughly too. Between the lining of each brick, dirt and grime, combined with the moisture in the air, can make the brick look drab. That type of buildup also welcomes pests to enter. Pressure washing prevents these circumstances from happening. As the water is blasted onto the brick at high pressure, it not only removes the dirt that you see, but also those hard to reach areas. Your brick paved surface will look like you just had it installed.
Concrete Exteriors
Concrete is used everywhere in Troy, Michigan. It can be a reliable surface so long as it's maintained the right way. If you have a concrete driveway, you may have noticed how weeds will try to spring through the cracks or lining. You may also notice oil stains and gunk, which can be long lasting. Pressure washing companies use hot water equipment to remove these stains. Some will also offer weed removal services to complete the cleanup.
Wooden Exteriors
Wooden exteriors in Troy, Michigan are most often decks and patios. They make beautiful additions to a backyard or balcony, but tend to be one of the most vulnerable surfaces. Wood is victim to swelling from moisture, deterioration by termites, and stains from natural debris. When this sort of damage is not attended to, wooden exteriors become a home for pests and other critters. To prevent this, a pressure washing company will carefully use their equipment and techniques to take care of the problem and make the wood look renewed. Cleaning wood in this fashion is a very technical process that is best done by a pressure washing professional. They will know how to use pressure washing equipment without damaging the wood.
Pressure Washing in Troy, Michigan
If you have property in Troy, MI that requires the power of pressure washing, contact Kwik-Klean, Inc. for a free estimate.  We have been providing pressure washing services in Troy for over 25 years.