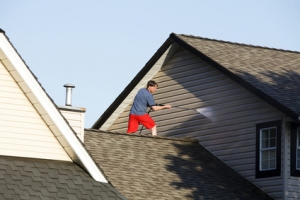 Vinyl siding is a good-looking and durable building material, and has been the most popular outdoor exterior for homes in Michigan since 1995. In order to make sure that it looks the best that it can, however, it does require maintenance. Mold and mildew can build up on vinyl siding over the course of time, and it can also become discolored due to the accumulation of dirt, pollen, spider webs, and bird or insect droppings. The clean-up, thankfully, is simple and satisfying.
To clean areas of siding that are easier to reach or without heavy, set-in stains, the best means to consider is a soft brush with some sort of solvent or solution. More abrasive brushes or scrubbing materials can easily scratch or scar the vinyl, and should be avoided even in cases of tough stains and rust. Make sure to move from the top of the area that you're cleaning to the bottom, to keep from leaving behind streaks or dripping excess cleaner. The type of cleaner that you use will depend on how tough the stains on your siding are. For light mildew or mold, white wine vinegar mixed with water in a 70/30 ratio works just fine. For more intense stains or those that are caused more from dirt and grime, a store-bought cleaner would make for a better final result.
Pressure Washing Vinyl Siding
For larger areas of vinyl siding or for stains that just don't want to come out with scrubbing by hand, pressure washing is a relatively simple alternative. It is important to make sure that the manufacturer of your siding approves pressure washing for their products, and to not use a pressure setting that is too high for the vinyl to withstand. Covering all nearby outlets, removing obstacles, and trimming or covering any landscaping that could pose a threat for tripping or be hurt by over-spray.
When using the pressure washer, it is best to work in small areas that can be easily marked off or delineated from unwashed areas. Use only cleaners that are meant to be used with both siding and pressure washers, and apply it from bottom to top. Let it sit on the vinyl for several minutes, but do not allow it to dry completely. When pressure washing, start from the top of the area and work your way down, never spraying upwards to avoid getting too much moisture between the cracks of the siding.
Personal protection is also, as always, extremely important. Make sure to wear protective gloves, eye-wear, and to always have a sturdy place to stand. If your surface is too hard to reach, too large, or if you do not have appropriate ladders and tools to clean it, consulting a professional pressure washing company in Michigan is imperative.
Whichever method you choose, if done properly, will increase the overall look of your home as well as the lifespan of your vinyl siding.
Pressure Washing Vinyl Siding
If you would like to receive a free quote for pressure washing vinyl siding give us a call today.  We have been pressure washing vinyl siding homes in Oakland County, Macomb County and Wayne County, Michigan for over 25 years.