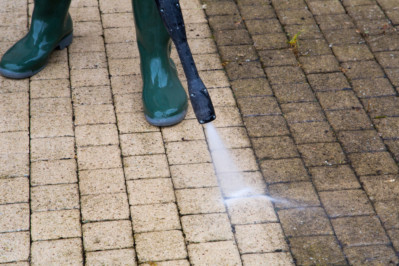 Many people consider pressure washing to be an optional home improvement method. Homeowners will put it off because they believe pressure washing doesn't have a big impact on their home or home value.
Pressure washing your home isn't just for aesthetic purposes though. The benefits of having your home professionally pressure washed go beyond simply having a beautiful home or boosting curb appeal.
Benefits of Pressure Washing
There are several reasons why having outdoor elements of your home professionally pressure washed regularly is important. The benefits of pressure washing go beyond the sparkling, new appearance it provides, though that certainly is a benefit. Here are a few other reasons why you should consider having yard pressure washed.
Pressure washing ensures a safe environment for you and your family. Thoroughly cleaning regularly can prevent the growth of mold, mildew, and moss that can potentially cause health problems and asthma. By regularly cleaning the exterior of your home and adjoining structures, you can then cut back on allergy-related illnesses.
Pressure washing can help you prepare for renovations and improvements. Most renovations for the exterior of your home require the area to be thoroughly cleaned first. Pressure washing ensures the area has been deep cleaned before you begin. Areas that have dirt or mildew on them may not properly hold paint, sealant, or stains. Pressure washing prior to those renovations can also remove peeling, damaged paint from the surface of the structure to provide a smooth finish for renovations.
Pressure washing can extend the lifespan of exterior renovations. The same mold or mildew that can cause allergies and illness may also damage your decks and siding. Areas that have not been properly maintained tend to weaken and cause damage to the structure of your deck. Replacing your home's siding or deck is much more expensive than simply staying on top of regular maintenance tasks such as pressure washing.
Why Choosing a Professional Is Important
Hearing the benefits mentioned above may make it tempting to pull out your old pressure washer and get to work. However, it's imperative to allow your trusted pressure washing company to help. Professionals provide a better result in most pressure washing tasks. This is because of previous experience and better equipment. Any pressure washing equipment you have laying around or rent isn't going to be as strong professional equipment. Professionals also use cleaning agents that can remove the toughest stains.
Although professional pressure washers use more powerful equipment, there is actually less risk of damage occurring to your home or deck. People who are inexperienced can often cause more damage and strip away important parts of their siding and deck by misusing equipment. With a professional pressure washing company, you have experienced contractors ensuring you have a deep clean that isn't at the cost of the structure you want to be cleaned.
Here at Kwik-Klean, Inc we have over 25 years of experience that we'd love to put to work for you. If you're ready to see the difference a professional pressure washing can make on your home and yard, give us a call today at (248) 852-7141!