Wood Deck Restoration – Making Your Deck Great Again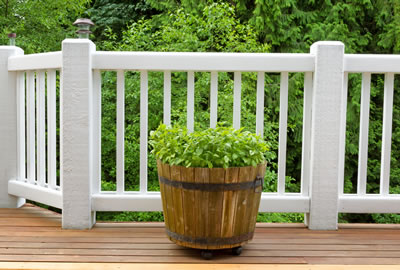 If you have a wood deck on your Oakland County or Macomb County property, you probably aren't focusing on the care that it really needs. You're enjoying it! However, most homeowners in Oakland County and Macomb County don't give their wood decks, stairs and patios the proper care they need, which can lead to damage and the eventual complete replacement of your wood decking. This doesn't have to be the case. Wood decks can last for many, many years if they are restored correctly and then given the proper care. If you are ready to make your old deck look great again, here is what you can expect from your wood restoration expert.
Step 1 – Strip Old Stains and Sealants From Your Wood Deck
This can be the most challenging part of restoring a wood deck or other structure. Depending on the stains or coatings that have been used on the wood previously, removing the old can be as simple as using a good, environmentally safe stain stripper, or physically removing the paint or stain using a sander or scraper. It's important to remove all of the old stain and grunge so that the new products will properly adhere to the wood's surface and look good. Another reason to get rid of all of the old stain and sealants is to let the beauty of the wood shine through.
Step 2 – Give Your Wood Deck A Good Cleaning
Once the old stain and sealant have been removed from your wood deck or steps, it's time for a good cleaning. This is achieved by pressure washing your wood deck following the stain stripper, which will remove any remaining stain, sealant or paint as well as mold, mildew, algae and dirt that may be lingering on the surface of the wood. Clean wood will hold the stain better, and the color that you have selected will be more true to the samples if the wood on your deck, stairs or gazeebo is clean and free of impurities. The gentle rinse is followed up with an eco-friendly wood brightener. This product returns the wood to its natural state leaving the wood looking fresh and vibrant.
Step 3 – Dry and Stain Your Wood Deck
The last step in the process of restoring your outdoor wood surfaces is applying stain and sealant. Before the stain and sealant can be applied, your deck needs to fully dry from the previous two steps, which usually takes 24 to 48 hours. Dry wood will retain the stain and sealant and will ensure an even application. When your deck is sufficiently dry, two coats of stain with a preservative is applied. This is done using rollers, stain pads and hand brushing to cover every part of exposed wood. Any stain that has puddled or runs or drips will be brushed back once the stain has penetrated all of the wood surfaces.
This process should be repeated every couple of years to achieve the longest life possible from your wood patio, stairs, or other structures. If your wood structures have damage or need replacement boards, make sure you do this prior to staining, or have a decking professional do the work for you.
For More Information On Wood Deck Pressure Washing Services in Oakland or Macomb Counties
Kwik-Klean is Metro-Detroit's expert in pressure washing all of your residential or commercial surfaces. Not only can we restore your wood deck to its original beauty but our professional staff can deep clean brick pavers, concrete, clean and protect your hardscapes, and give the outside of your home or building a transformational cleaning. If you are ready for a beautifully restored deck or professional pressure washing services, call us today at (248) 852-7141. Kwik-Klean is Oakland County and Macomb County resident's choice for professional pressure washing services.