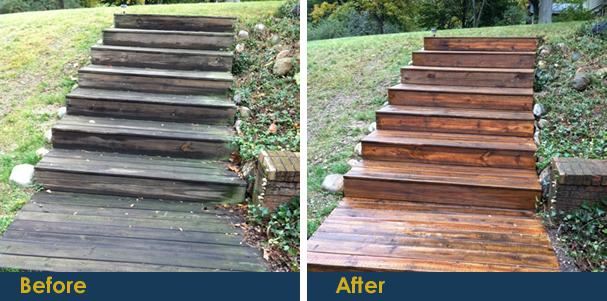 Trying to make sure your property keeps its beautiful look is easier said than done. Sometimes that dirt, dust, and grime pile on so easily and quickly and it takes way too much time to try to keep it clean on a weekly or monthly basis.
What's the best way to make sure your wooden deck or patio stay clean and maintain that good as new look? Hire a Berkley pressure washing company that is trustworthy and knows what they're doing. Here's a look at how Kwik-Klean Inc. restores your property in an efficient way that doesn't damage any deck, patio, or other wooden surface.
1. Professionals Know How to Measure Pressure
Some homeowners feel inclined to just take care of the filth on their own. However, if you don't know what PSI is, then don't bother buying a pressure washer.
PSI stands for pounds per square inch. From that statement alone, you can tell that a significant amount of force is released onto a surface when a pressure washer is active. That's why it's important to have a professional pressure washing company take care of wood restoration. They can decide what type of pressure should be released upon the surface to efficiently clean a wooden structure.
You never want to have too much pressure released on a wooden surface or you'll do more harm than good. Instead of removing the gunk, you're going to shave the wood which will make any wooden surface unsafe to be around and cause you extra expense.
2. Professionals Use the Right Type of Washer and Chemical Solution
Professional pressure washers don't just spray water on the wood to get the job done. Pressure washing requires the use of a variety of solutions or detergents that respond appropriately to a certain type of wood. A professional's knowledge on what type of pressure washer and solution to use is something you can benefit from. It's definitely easier than trying to memorize and understand all that information on your own.
A professional pressure washer's understanding of how the wood should be restored is much more reliable and you're sure to see the satisfactory results after the work is done. Additionally, a professional pressure washing company from your local Michigan area will be used to the type of decks most Macomb and Oakland county residents use.
3. Professionals Understand the Difference Between Scrubbing and Rinsing
Have you ever watched a professional pressure washer at work? Expect to see them cleaning off a wooden deck or patio in a swaying motion or utilizing a strong brush to help with scrubbing the deck. Then, they'll rinse the deck over again to make sure every area of the deck is clean and restored. There are a variety of cleaning techniques these experts use to make sure they get the job done. If you're not sure how to do it on your own, then hiring a professional is the best way to go.
Hire the Best Berkley Pressure Washing Company for Wood Restoration
If you are looking for a Berkley pressure washing company, contact Kwik-Klean Inc. today to get an estimate on cleaning your wooden structures and preparing them for the colder months ahead.
Call Kwik-Klean Inc. at: (248) 852-7141