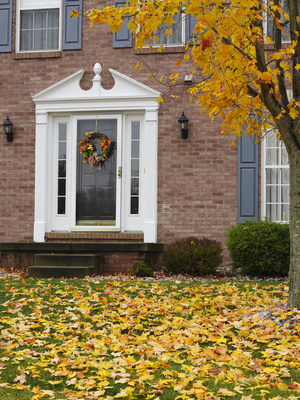 Spring and summer were great seasons to enjoy, but fall is coming in closer and closer. This means your Ferndale home or business needs to prepare for the cooler weather and the oncoming snowfall. One of the best ways to make sure your fall clean up tasks aren't too much trouble is to hire a pressure washing company.
Pressure washing brings "clean up" to a whole new level with its powerful force and range. However, it's best to have a pressure washing professional take care of the structures of your outdoor spaces. Here are the top three reasons why.
1. Pressure Washing Companies See Dirty Areas That You May Not
While we're enjoying the spring and summer, a variety of dirty, dust, and debris clings to and builds up on the outside of your home, including your walkways, steps, driveway, and the exterior walls. Businesses deal with the same problem. It can be a pain to take care of when fall comes around with even more dust and debris being blown in your direction. Instead of putting it off and hoping that you'll have time to take care of it next year, hire a professional pressure washer to take care of the problem now.
Allowing another layer of filth to conquer your property can lead to unforeseen damages. Additionally, the look of your home or business will decline. Pressure washing not only restores the look of exteriors, but also protects them from degradation. When you hire a professional pressure washing company, you'll notice they catch all the filthy areas that you may not have even noticed. In the long run, their expertise will protect your property.
2. Professional Pressure Washers Can Reach Where You Can't
Do you have any windows that are too high to reach or areas of the exterior walls that are beyond your ability to get to? Absolutely do not try to take on that task yourself by grabbing a ladder and attempting to clean that area. Professional pressure washers have the right equipment that can clean hard-to-reach places. That way, everyone stays safe while your property gets cleaned. Although the pressure is strong, your windows and sensitive areas of your property will be protected. These experts know how to get to those areas without damaging anything.
3. Pressure Washing Companies Steer Away Autumn's Leftovers
Since fall is a cooler time of year, moss, mold, algae, and other substances like to stick around on your surfaces for as long as they can. They are especially hard to remove with normal cleaning products and trying to blast it away with your hose may not be enough. A professional pressure washing company can provide you with a pressure washing system that gets rid of stubborn moss, and mold with nothing more than just water. Additionally, any natural debris that occurs during the fall won't last long on your property as your pressure washing company will whisk them away in a flash.
Contact a Ferndale Pressure Washing Company
To see how your property can be restored and protected, contact Kwik-Klean Inc. today. We provide Ferndale pressure washing and also service the entire Metro Detroit area.
Call Kwik Klean – (248) 852-7141