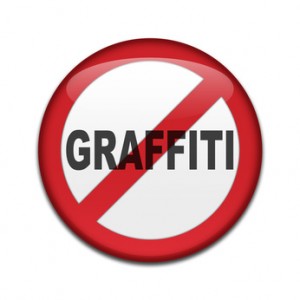 Some call it art and others call it vandalism. The bottom line is that it's unnecessary/ for graffiti to appear on people's houses, storefronts, or businesses. It's like a glaring stain on a dress shirt that you can't seem to wipe off without it going in the wash. Most people assume that graffiti is difficult to wash away without countless hours of scrubbing, but pressure washing can erase it with ease. Here are three reasons why you should get rid of graffiti as soon as possible with the help of a Southfield pressure washing company.
1. Clean Surfaces Will Lead to Restoration
When graffiti is a part of your property, you just want it to be gone. But if you work with a Southfield pressure washing company to remove it, you get a few bonuses that go beyond washing away paint. Not only will pressure washing rid your property of the graffiti, it will also restore the surface that was tagged.
A professional pressure washer can restore the look of brick-paved, wooden, and composite surfaces, as well as the siding on houses. Pressure washing can make all those surfaces look like new. They'll seem as though you just had them installed and they'll last longer too.
2. Getting Rid of Graffiti Welcomes Visitors
For those who accept graffiti as an art, they must understand that there's a time and place for it. Tagging someone's house, business, or store is not the most productive way to show someone's artistic talent. And it most definitely doesn't encourage visitors to tour your home or come into your business.
Buildings with graffiti can truly devalue the image of a business, encouraging customers to stay away. If you are concerned about the presence of graffiti tarnishing your professional reputation, then hire a Southfield pressure washing company as soon as possible to handle the job. Power washing is one of the fastest ways to clean up any surface, and will prepare your space for welcoming customers in no time.
3. Professional Pressure Washers Are Fast and Effective
Some may feel that DIY cleaning off the graffiti is a cheaper option. They just don't know that a professional pressure washing company will follow through with the problem, leaving the surface completely spotless. Rather than trying to clean it yourself and wasting hours of hard labor, only to find leftover residue later on, it's best to bring in the experts to tackle the job.
With a clean wall comes restoration and with restoration comes durability. By adding a professional touch to the cleanup, you're assured that the work will remain in good condition longer. What you pay will be more than worth your while.
Need the Best Southfield Pressure Washing Company?
One of the most highly recommended Southfield pressure washing companies is Kwik-Klean Inc. Not only are they masters of removing graffiti and vandalism, but they can also restore a variety of surfaces on residential and commercial properties. Contact them today and see the graffiti wash away as if it were never there to begin with.
Call for a Free Estimate: (248) 852-7141