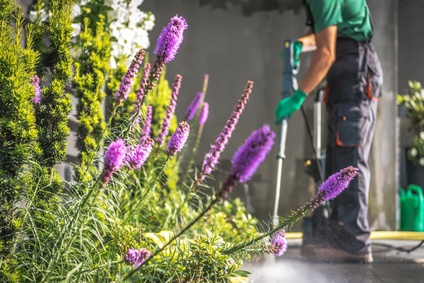 Keeping your house nice and neat is important. But our homes have many areas that need attention, and one of them is the exterior of the house. Whether it's your concrete driveway or a patio, it can get dirty and stained. Especially after years of use, you might experience resilient dirt, algae growth, and stains that can't be removed easily. Sometimes we can try to clean it ourselves, but if the area is too big or the accumulation of dirt is just too much, we might want to hire a professional service. Hiring a professional will save the agitation, your precious time, and will bring you visible results.
The texture of concrete is very porous and might present a significant challenge to clean properly. You can always give it a try, but more likely it will take you a lot of time and energy to complete, and the results might not be too satisfying.
Here are some of the reasons why you should consider hiring a professional pressure washing service to clean your concrete driveways and walks.
1. Avoiding damage
Improper pressure washing can damage your concrete areas, especially if they are relatively new (only a couple years or so). The lack of experience when handling a pressure washer can result in water damage and other forms of concrete degradation. Professionals will know how much pressure should be applied to the area, the proper angle of cleaning, and much more. Leaving this job to someone who does not have the proper experience, might cause more damage than good, and might damage the concrete, causing additional costs. Using aggressive chemicals and inappropriate tools can damage your concrete areas even further. Experts will know which cleaning products should be used to give you the best result possible.
2. Saving water
Pressure washers can use quite a lot of water, and when used unproperly, a lot of the water can escape without doing the proper job. If you are trying to save some water to protect the environment and your water bill, experienced professionals will do a good job without using excess water.
3. Saving your precious time and money
Owning different cleaning machines can sometimes save your money, but other times can be a problem. The proper maintenance and cleaning, are necessary to keep them in good shape, not to mention the spare parts when something breaks. To avoid all those additional costs and worries, the best choice is to hire experts. The job will be done professionally, quickly and you won't have to break your back. They can clean and refresh your concrete areas, while you are enjoying a cup of coffee and before you know it, your patio or driveway will look like new.
4. Preserving your health
Sometimes the stains can be very resistant and hard to remove, or the damage on the concrete has to be repaired using certain chemicals. Not having the proper protective gear when dealing with potentially dangerous chemicals, can harm your health. Sometimes acids and harsh cleaning solutions will have to be applied, and it's truly best to leave it to a professional. They will have all the tools and the protection they need and do the job correctly not to hurt the surface or the environment.
5. Increasing value and appeal
Professional pressure washing solutions will leave your outdoor areas spotless and beautiful, removing any oil stains, harmful bacteria, algae, or mildew. They can be used on driveways, patios and many different areas such as; fences, pools, gazebos, statues and much more. This will instantly increase the appeal and value of your home, whether you just want to have a beautiful home or in case you are trying to sell your property.
Sometimes we can think that our fence, outdoor furniture or a wooden patio need replacing, but what they truly need is a professional pressure wash and later a new coat of paint, and more likely they will look just like new.
Hiring a professional service to pressure wash your outdoor areas properly is truly beneficial for many reasons. Not only you won't have to break your back and knees to scrub stains that might not even get properly removed, but in the long term, it will save you money, agitation and a lot of time. It will be done quickly and will reveal the true beauty of the cleaned areas that you might have already forgotten was there in the first place.
For More Information on Our Pressure Washing Services in Metro Detroit
Kwik-Klean is the expert in pressure washing concrete driveways and walks in Metro Detroit to include Rochester Hills, Troy, Sterling Heights, Warren and the surrounding areas. Our experienced and knowledgeable staff are trained to know just how to improve the appearance of your home or business with quality cleaning. For complete information on our pressure washing services or to schedule an onsite free estimate, please call us today at (248) 852-7141.