Five Tips to Keep Your Pavers Looking New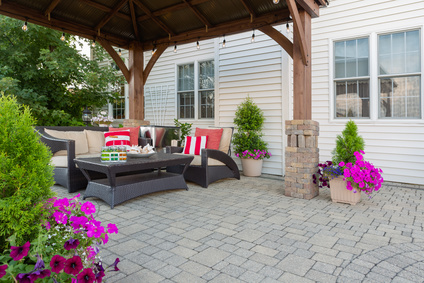 Pavers can enhance the look of your home substantially but they also need adequate care to retain their original glow and appeal.
You can easily keep your pavers at home looking elegant and new by following simple tips and tricks. We have gathered some of the best ways that you can utilize to have elegant looking pavers.
1. Frequent Rinsing and Cleaning
If you want to have your pavers at home looking new all the time and not lose their appeal, you should pay proper attention to their maintenance. Flooring materials are prone to degrade with time and this degradation is accelerated if you are not taking adequate measures to keep the floor clean and maintained.
You can have elegant looking pavers if you clean them regularly and not leave behind any stains of material like grease and oil for long.
2. Pull Out the Weeds
Pavers for patio and other places can develop weeds. They can make the paver look old, and can curb the appeal of your home. To prevent such a situation from happening, you should scrap the weeds out of the paver joints right in the beginning.
However, you need to be careful in the extraction as you can damage the pavers in the process. You can fill the joint gaps with paver sand to prevent silting that eventually promotes the growth of weeds.
3. Clean the Damp Stains Immediately
Retaining the glow and appeal of the pavers at home requires efficient cleaning. You should not let any damp stain sit on the paver for long. It can cause discoloration. If you notice that something has spilled on the patio, wipe it right away.
4. Clear Debris with Water
Pavers for the patio can have dirt and debris gather on the surface and in joints which can bring down the appeal of the space. You can rinse the surface of pavers with some water to get rid of any debris that has gathered.
Rinsing your pavers every now and then can help you retain their glow.
5. Pressure Wash Your Pavers
Some stains are harder to remove than others. If you see that you're not able to get rid of stains by simply rinsing or sweeping, you can go for pressure washing. Pavers for patio and other surfaces can get damaged if you use a pressure washer at its strongest stream setting. So, keep the pressure at a mild rate to avoid any damage from occurring and get the required job done. If you do not own or you own but you are not experienced, hire a professional pressure washing company to handle the job for you. You'll find that it's worth the money spent to have bricks looking new and without damaging them.
If you have concrete pavers, they're easiest to maintain and retain their new look. This is because they rarely show any color or stain against their own. You can easily sweep or blow away the dirt present on the surface or use a hose to wash away the accumulated debris. The only secret behind elegant looking pavers is frequent and efficient cleaning. If you're able to keep your pavers at home clean, you will not only retain their original appeal but also increase their life.
Hire a Professional Pressure Washing Company to Keep Your Pavers Looking Like New!
If your pavers are dirty but you don't own your own pressure washer, the best course of action is to hire a professional pressure washing company that has experience pressure cleaning pavers and hardscape restoration. This is the surest way to avoid damage and the potential for costly repairs.
Kwik-Klean is the expert in pressure washing paver driveways, walks, retaining walls, and other hardscape restorations. We provide professional pressure washing services in Metro Detroit to include Rochester Hills, Troy, Sterling Heights, Warren and the surrounding areas. Our experienced and knowledgeable staff are trained to know just how to improve the appearance of your home or business with quality pressure washing services. For more information on our pressure washing services or to schedule an onsite free estimate, please call us today at (248) 852-7141.