If you're thinking of refinishing your wood deck, there are certain steps that are integral in preparing. You don't want to have stains, grime, or dirt that will show through the finish and ruin the look of your beautiful wood deck. Aside from replacing broken or rotted planks, there are some other things that need to be done before you can get a beautifully finished deck to be enjoyed throughout the Michigan seasons.
Sweep Residue
Of course, before you begin and heavy cleaning of surfaces, you'll need to sweep the dirt and other residue off the deck. Get all the leaves, twigs, and loose dirt off the deck so you can start with a clean slate. If you have any planters on your deck or plants near it, you'll want to protect those before cleaning up so that they don't get damaged.
Remove Stains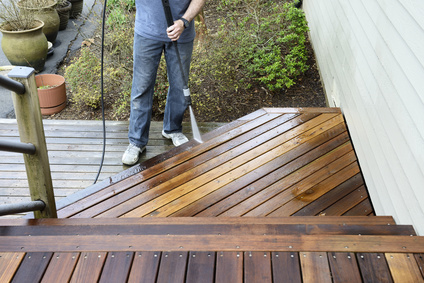 Stains on decks result from a lot of different factors – rust from tables, mold, or leaf stains can show on your deck and make it look dingy. Pressure washers might be a good idea for this, but you need to be careful. They come in different sizes and strengths, and the wrong strength can further damage your deck by chipping or gouging the wood. A lot of times it's best to hire an experienced pressure washing professional who can understand the type of wood on your deck and accurately determine what level of washer needed and how far away to place the tip of the washer.
Remove Mold
Mold can sometimes build up in between deck planks or in other areas of wood decks. This can be removed with a pressure washer as well, and it can also be prevented with a few basic steps. It should be kept as dry as possible throughout the non-winter months and swept regularly, especially during high pollen seasons. Make sure there's no running water from gutters running onto the deck. Avoid the use of bark mulch and lawn fertilizer near the deck. Make sure the decking is properly gaped.
Remove the Old Finish
If you prematurely refinish a deck without removing the old finish, you could be ruining your chances of the finish sticking and looking good. The new finish will simply sit on top and won't penetrate the wood, eventually peeling off and looking unpleasant. Especially if you're refinishing an older deck, it's important to sand the deck before adding new finish. A thorough sanding can be laborious, unless you have a power sander. But it's important not to over-sand and weaken the wood.
Cleaning your deck before refinishing is essential to creating a look that will resemble the wood's original luster and beauty. Although it isn't a complex process, it can potentially involve some complex machinery that is best left in the hands of a professional pressure washing company.
The Importance of Cleaning Your Deck Before Refinishing
For a FREE ESTIMATE  on our pressure washing services call us at 248-852-7141.  We offer a broad range of pressure washing services, which includes residential restoration as well as commercial cleaning services.