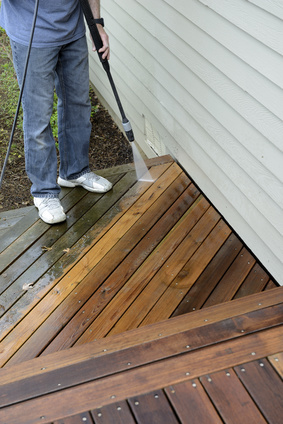 Pressure washing a wooden deck isn't as simple as it looks. You can't just blast water on your deck, hoping it will come out looking brand new. It's not just about focusing water on one spot to make the stains and mildew wash away. Royal Oak pressure washing services knows the proper technique about the temperature, pressure, and cleaning agents needed to return a deck back to its original state.
Here are a few tips from professional Royal Oak pressure washing services:
1. Does A Wooden Deck Need Maintenance?
Absolutely. You've seen that over the years, a wooden deck can lose that robust color and shine it had before. Nature has its ways of making it look worn down and unsteady. Rain and snow cause the deck to lose its color and become a home for moss, mildew, and fungus. The sooner you attend to your deck, the better. Hiring professional Royal Oak pressure washing services to take care of it is a smart first step.
2. Remember All The Tiny Details
Do you know what type of wood your deck is made out of? Have you found areas of rotten wood or loose bolts, nails, and screws? Are there any landscaping features that need to be protected from the chemicals being used or electrical outlets that need to be covered? This is how well you need to know your deck before pressure washing is even started. Each deck is unique and needs to be taken care of in a certain way.
3. Know What Cleaning Solution Should Be Used For Your Deck
The most common chemical used for pressure washing is sodium hydroxide because it works best with low pressures. For hardwoods or redwoods, citrus or oxalic acid is better. Professionals will make sure they use the right chemicals and the right pressure needed to take care of your deck.
4. Be Careful With The Pressure
Apply too much pressure and something unfortunate happens to the wood. The surface of the deck begins to "fur". The wood will start to look like it's been finely scratched, like a really sharp comb dug into the wood over and over again and the deck looks hairy or "furry". To take care of this, you will have to lightly sand the wood until it turns back to normal. The most it lasts is 2-3 weeks, but you'll want to avoid that happening in the first place. To do that, you need to know you're using the right amount of pressure. Trying to figure out the right pressure for your deck can be a process of trial and error. That's why it's better for a professional to take care of it. They have the knowledge and experience to handle any type of wood without damaging your investment.
5. It's All About Technique
Pressure washing looks simple, but it isn't. To do a thorough job, you need to soak the deck, and apply the cleaning agent needed. Then, a feather-like spray is applied while being careful not to press it against the grain of the wood. If you don't know what you're doing, you can leave stains or scratches on your deck.
Kwik-Klean, Inc. is a family owned and operated, pressure washing company that has been proudly servicing the Metro-Detroit area since 1990.
Instead of trying to figure it all out by yourself, ask Royal Oak professional pressure washing services to do it for you. All the complications of pressure washing are no problem for the guys at Kwik-Klean, Inc. If you live in Macomb or Oakland County, give us a call today.