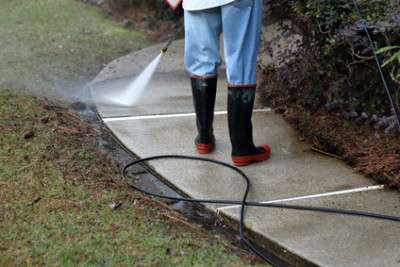 With Spring finally here, we are starting to experience warmer weather as well as Spring Cleaning!  Many homeowners find themselves getting their yards cleaned up, donating old clothing, throwing away junk they no longer use and getting a fresh start in their homes.  However, have you considered giving the exterior of your Rochester Hills MI home the same type of refresh?  Cleaning your homes exterior, driveway, walkways and even patio, is just as important as maintaining the inside of your home.  There are many benefits to hiring a professional pressure washing company, which will be discussed further in this article.
Washing Away the Winter
Even though you may think of winter being filled with white, bright snow, it is actually very dirty and grimey.  It can leave marks on your walkways, driveways, and sidewalks.  Driving throughout the winter causes your vehicle to pick up salt, chemicals and dirt that can cause damage to concrete, asphalt and paver surfaces.  Rather than repaving or stripping down your existing walkways and driveway, a professional pressure washing could bring the surface back to life, which will end up saving you a lot of money.
Bringing Old Wood Back to Life

There are many benefits from giving your wood a good cleaning.  Mildew, algae, and dirt can build up on wood stairs, wooden handrails, and wood patios.  By hiring a professional pressure washing company to clean your wood surfaces, you can make your wood look brand new.  If you have been considering restoring your wood deck or even replacing it, you may want to first consider giving it a good cleaning.  You may come to find that it does not need to be replaced, rather, just needs a wash and a little TLC.
Avoiding High Maintenance Costs

If you decide that your Rochester Hills, MI home needs is starting to look a little dirty, exterior walls and siding are also great for pressure washing. Overtime, the grime and dirt that is built up on the outside of your home can make it look unkempt and dull.  New life can be brought to the exterior with a thorough, professional pressure washing.  Typically, pressure washing your home can make it look freshly painted!  More than likely, you will be able to save money long-term by maintaining and cleaning the exterior of your home.  It can also save you from having to hire someone to repaint your home, or even repainting your home yourself.
Finding Hidden Maintenance Concerns

You would be shocked to learn how many hidden issues there are to your home, hiding under grime and dirt.  By pressure washing your home, damages, such as cracks and holes in siding, etc., are exposed.  If these types of issues are left unrepaired, small issues can quickly become costly repairs.  This is especially the case around gutters.  You could have unseen water issues if your gutters have not been maintained and cleaned, causing cracks and holes to be filled with debris.  A good power washing can clean out your gutters and help you avoid water damages.
For More Information on Pressure Washing Services in Rochester Hills, Michigan
Kwik-Klean is the expert in power washing in Rochester Hills, Michigan. Our experienced and knowledgeable staff are trained to know just how to improve the appearance of your home or business with a quality cleaning. For complete information on our pressure washing services or to schedule an onsite estimate, please call us today at (248) 852-7141.