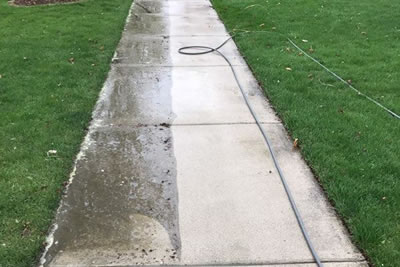 Commercial concrete takes a major beating every day, from heavy foot traffic, leaking cars, dirt, grime and depending on your business, a variety of equipment and chemicals perhaps. This wear and tear on your concrete can cause your Bruce Township business to look messy, and over time can cause damage to your concrete surfaces. One of the easiest ways to make your business look great and improve the life of your concrete is to have it professionally cleaned.
Specialized Equipment
Cleaning concrete seems like an easy job, right? Just rent a power washer and get to it. Well, many of our commercial clients have tried to do the work on their own, only to realize that there is more to cleaning concrete than meets the eye. Yes, when you hire a professional pressure washing company to clean your concrete, we do bring a pressure washer. However, this isn't your typical power washer. In order to get the dirt, grime, oil and even chewing gum off of your concrete sidewalks, parking lots and driveways, we use a power washer that works with high pressure AND a high flow rate. Many presssure washers that you can rent either have high pressure or a good flow rate, but not both. The right equipment for the job is probably the best reason to hire a professional power washing company to clean your business's concrete.
Environmentally Safe Chemicals
It takes some pretty tough chemicals to get stains, dirt and the signs of wear and tear out of your commercial property concrete. The chemicals that you can buy at the local home improvement store, or that are provided with your rented power washer, may work just fine, but are they safe for the environment? Being environmentally aware is becoming very important to consumers. We use an environmentally safe but effective cleaner to make your concrete look like new, so you don't have to worry about your customers wondering how much you care for the beautiful Michigan environment.
For More Information on Commercial Pressure Washing Services in Bloomfield Hills, MI
Your Bloomfield Hills business deserves to look great. Pressure washing your sidewalks, driveways and parking lot gives your business extra curb appeal. Kwik-Klean has been helping Bloomfield Hills and Detroit area business look great since 1990. If your business needs a good spring cleaning, call us today at (248) 852-7141 for a free commercial pressure washing estimate.